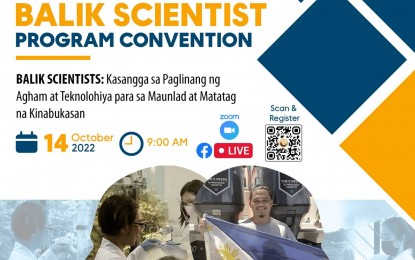 MANILA – The Department of Science and Technology (DOST) on Tuesday invited the public to attend the Balik Scientists Program (BSP) Convention on Oct. 14, either online or onsite, to hear and learn about a number of innovations by Filipinos scientists that seek to address problems the country is facing.
According to the DOST, the BSP Convention will provide updates on recent technologies, research studies, and capacity-building initiatives that revolve around different sectors such as health, agriculture, aquatic, industry, and energy.
The DOST will also present its plans for the BSP, with the goal of increasing public awareness on how Balik Scientists have contributed to addressing national concerns.
Among the 12 Balik Scientist presenters is Engr. Syrus Gomari, who will share about his project that aims to address traffic. "The solutions in the past 40 years have not been scalable or proactive. The benefit we have today is the widespread adoption of all sorts of technology," Gomari told the Philippine News Agency (PNA).
He said he is testing various artificial intelligence (AI) tools to help two pilot cities in Manila. "If proven that these solutions work in the local context, I am confident that they will work all over the Philippines and beyond. Research should not just be limited to academic institutions, considering the numerous problems that already exist, we should push for applied research directly in partnership with the direct beneficiaries," Gomari said.
Another presenter, Dr. Thaddeus Carvajal, will showcase studies on dengue. "Dengue fever is a rapidly emerging arthropod-borne viral disease worldwide, especially in the Philippines. The dynamics of the disease are affected through a comprehensive combination of factors that can be used appropriately in vector control measures," Carvajal told the PNA.
Philippine-based studies focusing on the biological and ecological aspects of dengue disease transmission will be presented. Carvajal said the different biological control approaches and their effectiveness in reducing disease transmission through a systematic review will also be featured.
The DOST said that to date, the BSP has already produced 603 Balik Scientists. Established in 1975, the BSP aims to encourage Filipino scientists to return to the Philippines and share their expertise.
The DOST said technical discussions are in the pipeline to create more opportunities to build a stronger scientific community.
For inquiries, the public may visit the DOST-BSP Facebook page or send an email to [email protected] Those who would like to watch online may register via https://tinyurl.com/8thBSPConvention. (PNA)