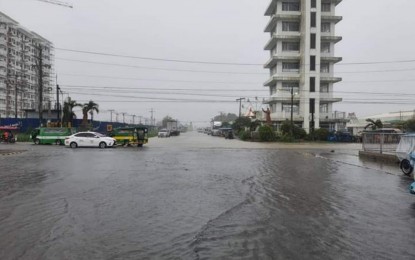 BACOLOD CITY – Mayor Alfredo Abelardo Benitez on Tuesday said the city government has come up with both short- and long-term plans to address flooding in various areas here.
The latest assessment identified 22 problematic areas, where drainage systems can no longer contain rainwater during prolonged downpours.
"We appeal to everyone to be responsible in disposing garbage to help ease the volume of waste that also causes flooding," Benitez said in a statement.
Benitez together with Vice Mayor El Cid Familiaran met with representatives of the Department of Public Works and Highways, City Disaster Risk Reduction Management, and the City Engineer's Office to discuss solutions, following reports of flooding in several areas during heavy rains on Monday.
Among the short-term plans are the installation of steel-grating type manhole covers, declogging of drainage systems, expansion of water inlets, widening of catch basin openings, and strict garbage collection and disposal in the barangays.
Long-term plans include the construction of diversion channels as release points of drainages to relieve flood waters in the downtown area and the surroundings of a shopping mall at the Reclamation Area.
"The details are now being laid out," the mayor said.
Usually hit by floods are the downtown area along with adjacent locations such as Central Market, SM City Bacolod and Luzuriaga-Gatuslao Streets as well as commercial areas near the Bacolod City Government Center such as Lopue's East and Hi-Strip.
Flooding has also been reported along the Libertad South Market and the adjacent streets, Magsaysay flyover, and Lupit and Mandalagan Rivers. (PNA)