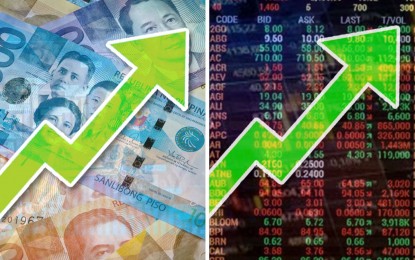 MANILA – Bargain hunting lifted anew sentiments in the local bourse on Tuesday and this benefited the peso following its record-low close of 59.00 to a United States dollar the previous day.
The Philippine Stock Exchange index (PSEi) rose by 3.54 percent, or 204.57 points, to 5,987.72 points.
It was trailed by All Shares after this increased by 3.09 percent, or 96.35 points, to 3,210.48 points.
Holding Firms led the sectoral gauges in terms of increase after it went up by 4.73 percent.
It was followed by Property, 4.19 percent; Mining and Oil, 3.75 percent; Industrial, 3.63 percent; Services, 1.47 percent; and Financials, 1.44 percent.
Volume was thin at 514.19 million shares amounting to PHP4.59 billion.
Advancers led decliners at 140 to 60, while 40 shares were unchanged.
"Philippine investors continued the bargain hunting on the second trading day of October finishing in the green once more," said Luis Limlingan, Regina Capital Development Corporation (RCDC) head of sales.
Limlingan said "market moves were brought by the easing of (US) Treasury yield", led by the 10-year note after this fell to 3.65 percent from more than 4 percent last week.
On the local front, he said drivers of risk-on sentiments include the rise in factory output last September, which posted a three-month high index of 52.9 "on more robust demand."
Oil prices rose "as OPEC+ continues to weigh reducing output by more than 1 million barrels per day to buttress price(s) with what would be its largest cut since 2020."
Limlingan said Brent crude oil futures increased by 4.37 percent to USD88.86 per barrel and the West Texas Intermediate (WTI) by 5.2 percent to USD83.63 per barrel.
Meanwhile, the peso gained against the US dollar at 58.65 from its 59.00 finish a day ago.
It traded between 58.88 and 58.98. The average level for the day stood at 58.856.
Volume reached USD779.1 million, higher than the previous session's USD666.7 million. (PNA)