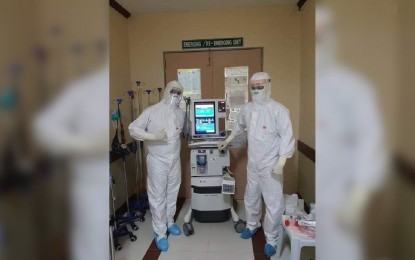 MANILA – A party-list lawmaker on Tuesday welcomed the approval of the Department of Budget and Management (DBM) to release PHP1.04 billion in additional funds to cover the special risk allowance (SRA) of eligible public and private health workers in the Covid-19 healthcare response.
"With gratitude, we welcome the decision of the DBM in allotting additional funds for our front-liners. We hope that more unused available funds are found and sourced to fill in the PHP73-billion total of overdue allowances our workers deserve to receive," said Anakalusugan Partylist Representative Ray Florence Reyes in a press statement.
In early September, Reyes called on fellow lawmakers for the return of PHP76 billion worth of arrears for health care workers that DBM slashed from the Department of Health's (DOH's) budget.
Reyes noted that only PHP19 billion was reflected in the National Expenditure Program for Fiscal Year 2023, which the Health Department said will only last for three months of back wages.
From December 2020 to June 2021, DBM released a total of PHP11.857 billion funding for the SRA of health workers.
"A lot more is needed, but our call is beginning to bear fruit. Until the healthcare system is given due attention, we will neither stand idly by nor keep mum. We will continue the legislative push to increase the allocation of our health sector for concerned departments to act. Hopefully, this decision will be extended and be translated to better funding in the General Appropriations Act of 2023," Reyes said,
According to the DBM, the release of a Special Allotment Release Order (SARO) to the DOH was approved by DBM Secretary Amenah Pangandaman on Monday.
The additional funds will cover unpaid Covid-19 SRA claims of 55,211 health workers, who will receive a grant amounting to PHP 5,000 for every month they are serving during the period of the state of national emergency.
"Rest assured that we will continue to closely coordinate with the DOH so that our health care workers get the allowances and benefits they deserve," Pangandaman said.
Last month, President Ferdinand "Bongbong" Marcos Jr. said his administration is committed to improving the working conditions of nurses and other health workers here and abroad.
He vowed to reduce the disparity in salaries between government hospitals with those in the private sector and the uneven distribution of nurses in different areas around the country by addressing issues related to health facilities, benefits, and security of tenure. (PNA)