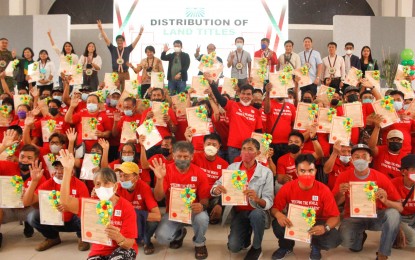 MANILA – The Department of Agrarian Reform (DAR) has exceeded most of its targets in the first 100 days of the administration of President Ferdinand Marcos Jr.
DAR was able to provide training, livelihood, and marketing support to 171,122 agrarian reform beneficiaries (ARBs), or equivalent to 123.33 percent of its target, under the stewardship of Secretary Conrado Estrella III.
Moreover, a total of 55,626 ARBs, or 117.64 percent of its goal, were given access to credit and microfinancing, while 1,070 agrarian reform beneficiary organizations (ARBOs) received training.
DAR's accomplishment report likewise showed 65-percent resolution of DAR Adjudication Board (DARAB) cases at the provincial, regional, and national levels, aside from the Agrarian Law Implementation (ALI) cases at regional levels and at the Office of the Secretary.
Under the ARB Development and Sustainability Program, DAR implemented foreign-assisted and special projects, including 147 bridges with a total length of 7,423,201 meters under the "Tulay ng Pangulo para sa Kaunlaran" Project (TPKP).
Twenty-seven bridges with lengths of 804 meters and 14 bridges with lengths of 458.4 meters are in pre-construction stages.
The PHP18.5-billion TPKP, a joint project of the Philippine and French governments, has been a source of pride for the whole Filipino nation as it opens great opportunities to enhance their socio-economic well-being.
"Its three-pronged objectives are to promote agrarian reform and rural development, enhance productivity and income, and alleviate poverty among various farming communities," Estrella said. "The idea is to link even the remotest villages to the town and market proper, our way of making them feel that they belong and play a big role in nation-building."
The Convergence on Value Chain Enhancement and the Rural Growth and Empowerment projects that started under the Duterte administration has already built 42.792 kilometers of farm-to-market roads, 94 hectares of communal irrigations system, and 20 linear meters of bridges as of September.
DAR's agrarian reform policy, Estrella said, is anchored on President Marcos' inaugural State of the Nation Address (SONA) on the "unequivocal commitment to continue agrarian reform programs."
Solved
DAR's justice system resolved 5,713 DARAB cases, out of a total of 8,082 nationwide, as of September 30 for a 70-percent accomplishment.
A total of 2,634 out of 4,517 ALI cases likewise reached resolutions, or a 58-percent accomplishment rate.
DARAB resolves disputes between landlords and tenants and administrative determination of just compensation of landowners while ALI cases are legal disputes under Republic Act 6657 or the Comprehensive Agrarian Reform Law, as amended, and other agrarian laws.
Estrella said DAR has a shortage of lawyers and may not be able to achieve a zero backlog, but is committed to provide a higher percentage of solving cases.
"Our game plan is to do a scrap and build scheme. We will abolish vacant positions so that we can create positions to offer bigger salaries to lawyers," he said.
Land tenure security
Under the parcelization of collective Certificate of Land Ownership Awards (CLOA) funded by the World Bank, 8,106 electronic titles of individual certificates covering 11,097 hectares have been issued.
Estrella said they are doubling efforts to fast-track the subdivision of collective CLOAs, targeting at least 157,000 hectares of agricultural land for field validation within the year.
Accelerating the subdivision of the collective CLOAs into individual titles through the Support to Parcelization of Land for Individual Titling (SPLIT) project would empower farmer-beneficiaries and enable them to direct their individual aspirations as landowners.
Meanwhile, DAR completed the acquisition and distribution of 1,404 hectares of land for 1,006 ARBs; and of 3,070 hectares of unused government-owned lands for 2,853 ARBs.
Executive Order No. 75, signed in February 2019, directs all departments, bureaus, offices, and instrumentalities of the government to identify lands owned by the state and devoted to or suitable for agriculture for distribution to qualified beneficiaries.
Qualified beneficiaries include landless college graduates with degrees in agriculture and landless veterans and retirees of the Philippine National Police and the Armed Forces of the Philippines.
Another major project that DAR is implementing is Executive Order No. 4 that provides a one-year moratorium on the loans of farmers who received lands under the Comprehensive Agrarian Reform Program, as mentioned during the SONA in July.
On September 28, DAR and the Land Bank of the Philippines signed joint Administrative Order No. 6 for the implementation of the moratorium. (PNA)