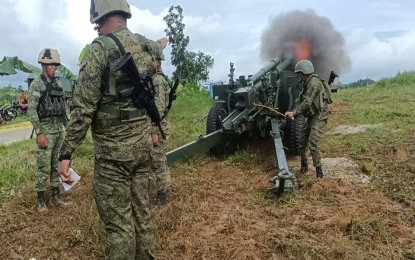 MANILA – The Army Artillery Regiment (AAR) announced that the 3rd Field Artillery Battalion conducted a series of registration and live-fire drills on Tuesday, aimed at improving the skills and accuracy of its gunners in Negros Occidental.
Philippine Army (PA) spokesperson Col. Xerxes Trinidad, in a statement Wednesday, said these gunnery exercises took place at Barangay Dung-e, Sipalay City, Negros Occidental.
"The registration firing and live-fire drills are in line with AAR's unit and individual certification program aimed at ensuring that firing units and personnel are capable of performing various artillery gunnery procedures for timely and accurate delivery of artillery fires," he added.
Trinidad said the certification program is also aimed at validating the proficiency of firing unit personnel on their respective duties and responsibilities.
"AAR is implementing a certification program for gunners and assistant gunners prior to deployment at firing lines. Field artillerymen also undergo re-certification before handling actual operations," he added.
Trinidad said the AAR is one of the PA's major units at the forefront of Army modernization.
The AAR has been consistently performing its mandate in organizing, training, equipping, developing, and sustaining artillery units in providing timely and accurate fire support to maneuver units. (PNA)