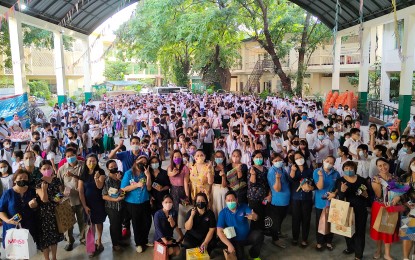 MANILA – President Ferdinand "Bongbong" Marcos Jr. on Wednesday thanked teachers across the country for their "invaluable service" to the nation, especially amid the resumption of limited face-to-face classes.
In his National Teachers' Day message, Marcos urged Filipinos to acknowledge teachers' "sacrifices" in molding students and preparing them to achieve their dreams.
"This is also a good opportunity to express our sincerest appreciation for their invaluable service to the nation as we safely reopen our schools and bring forth a new era of learning amidst the post-pandemic world," he said.
He described education as "the bedrock of every prosperous society", citing how teachers served as "important drivers of our nation."
"Today, we honor our dear educators across the country for ensuring our youth's holistic development as they aspire to be agents of change within their respective communities and beyond," he said.
Marcos expressed confidence that with the help of teachers, the country will "grow stronger with every Filipino becoming more capable of building a better future for all."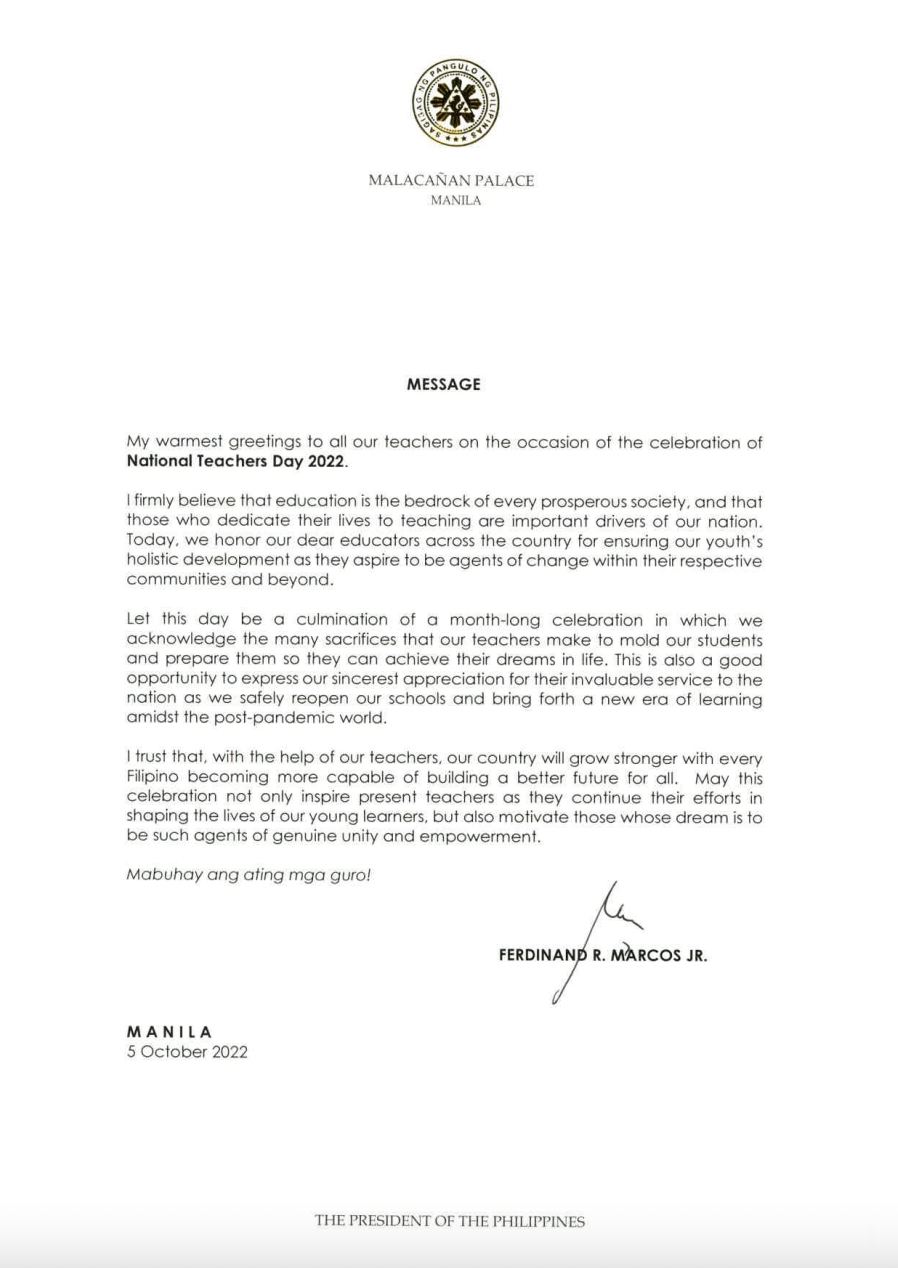 "May this celebration not only inspire present teachers as they continue their efforts in shaping the lives of our young learners, but also motivate those whose dream is to be such agents of genuine unity and empowerment," he added.
The Philippines marked the return of in-person classes on Aug. 22 after two years of blended learning amid the coronavirus pandemic.
Marcos earlier said he believes that learning is "more effective inside classrooms where students fully interact with their teachers and fellow students."
National Teachers' Month (NTM) is celebrated from Sept. 5 to Oct. 5 to honor those in the teaching profession and acknowledge their commitment in developing globally-minded citizens, nurturing families, strengthening communities, and building the nation.
The country started its celebration of the NTM per Proclamation No. 242, series of 2011.
The 2022 NTM will culminate on Oct. 5 which is also the National Teachers' Day and World Teachers' Day celebration. (PNA)