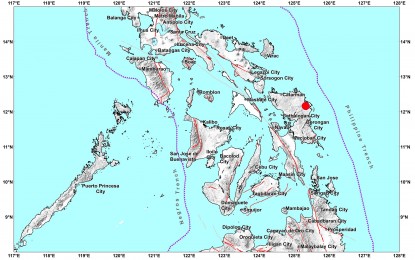 TACLOBAN CITY – Two earthquakes at magnitude 4.4 shook different parts of Eastern Samar province early Wednesday, the Philippine Institute of Volcanology and Seismology (Phivolcs) reported.
The first temblor struck 12 kilometers southwest of Homonhon Island in Guiuan, Eastern Samar at 2:16 a.m. The magnitude 4.4 quake was felt at Intensity II in General MacArthur town.
The second ground shaking with the same magnitude was recorded nine kilometers northeast of remote Maslog town.
Intensity III was felt in Maslog and Arteche towns and Intensity II in Oras town.
Magnitude measures the energy released from the source of the quake, while intensity gives out the strength of shaking produced by the earthquake at a certain location.
Phivolcs said both quakes were tectonic in origin, which means the tremor was caused by the movement of an active fault in the area.
There was no expected major damage from the tremors.
In previous studies, Phivolcs said earthquakes in Eastern Samar were generated by the movement of the active faults which includes the Eastern Samar and Salcedo Faults; and the subduction of the Philippine Sea Plate along the Philippine Trench.
In addition, there are other nearby local faults, which may not be manifested on the surface, and may be sources of small to moderate-magnitude earthquakes. (PNA)