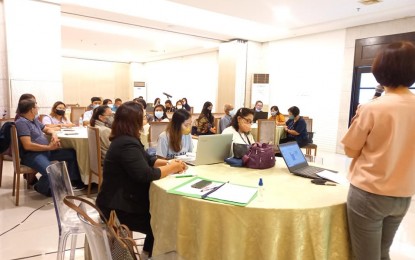 ILOILO CITY – The Department of Trade and Industry (DTI) in Western Visayas (Region 6) is eyeing to increase sales of its bamboo products by reviving the export market, especially for engineered bamboo.
"If we can revitalize the export market because before we used to be an exporter. Iloilo exports bamboo before I think in the late 1980s to the 1990s. So we would like to go more or less to that level that the bamboo products can really be in the global value chain," said DTI officer-in-charge Regional Director Ermelinda Pollentes in an interview on Wednesday.
The domestic sales of bamboo products in Western Visayas reached PHP7.123 million as of Sept. 30, 2022 or an increase of 88 percent from the PHP6.10 million based on the accomplishment report on the implementation of the 2020 Bamboo Cluster Plan.
The Western Visayas Bamboo Industry Development Council chaired by the DTI is conducting a Regional Bamboo Industry Assessment and Strategic Planning in a hotel in Iloilo City until Wednesday to come up with a relevant, updated, recalibrated, and inclusive plan to further develop the bamboo industry in the region.
"The DTI function is more of in the marketing aspect. Since this is a cluster approach, we have to look at the cluster from the plantation side, from nursery to the development so that the supply production is assured," she added.
"We have four shared service facilities for e (engineered)-bamboo. We want to seize this opportunity that they can be utilized because there is a market even for the raw materials. So everybody is happy that they get a fair share of where they have invested in the bamboo industry," she said.
DTI is eyeing for the whole region to be considered the country's bamboo capital, Pollentes said.
As of Sept.2022, some 24,535.85 hectares have been planted with bamboo in Western Visayas. (PNA)