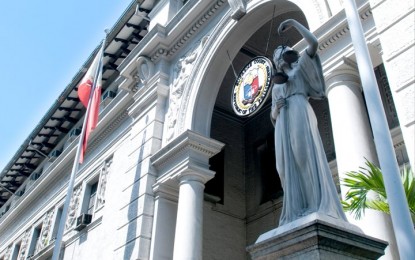 MANILA – The Supreme Court (SC) has cleared a private individual accused of receiving kickbacks on behalf of a former lawmaker who had been named in anomalies linked to the Priority Development Assistance Fund (PDAF) or pork barrel in 2008.
In a notice published online on Oct. 4, the Supreme Court First Division said it has cleared Celia Cuasay whom the prosecution said had been the authorized representative of former Mindoro 1st District Rep. Rodolfo G. Valencia and who allegedly received the lawmaker's s kickback.
Cuasay had taken her case to the SC to question the June 2016 ruling of the Sandiganbayan anti-graft court which had denied her "motions for judicial determination of probable cause" questioning her inclusion in the indictments initiated by the National Bureau of Investigation (NBI) before the Ombudsman in 2013.
The NBI claimed that Cuasay, as Valencia's representative, received an aggregate amount of PHP2.4 million as the latter's commission for projects chargeable to his PDAF in 2008.
Cuasay, however, was not notified and was not able to participate in the proceedings before the Ombudsman, which in 2015 found probable cause to charge a number of public officials and private individuals, including mastermind Janet Lim Napoles.
The NBI earlier said Cuasay received from Napoles and/or her cohorts "kickbacks or commissions for (Cong.) Valencia and for herself."
Cuasay, 65, claimed to know of the accusations against her through news reports, prompting her to file motions before the anti-graft court for the dismissal of the charges.
In ruling to strike out Cuasay's name from the charges, the high court said "the Sandiganbayan committed grave abuse of discretion amounting to lack or excess of jurisdiction when it failed to dismiss the case against Cuasay on the ground of palpable want of probable cause."
The SC added that the statement of supposed conspirator turned witness Benhur Luy which incriminated Cuasay was insufficient as it does not categorically establish the latter's participation in the PDAF scam.
"In fact, it appears that there is no substantial basis for crediting the testimony of Luy considering that his testimony were refuted by Representative Valencia himself, and no other material evidence was presented to support his statements," it said.
Valencia claimed Cuasay is a mere social acquaintance and that she had never been his authorized agent for any transaction. (PNA)