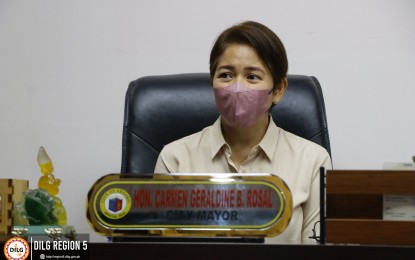 LEGAZPI CITY – Legazpi City Mayor Carmen Geraldine Rosal on Wednesday said her lawyers are now preparing the Motion for Reconsideration (MR) that will be filed within five days after the Commission on Elections (Comelec) Second Division granted the petition to disqualify her from the May 2022 elections for violating a provision of the Omnibus Election Code (OEC) on the disbursement of public funds during the election period.
In a statement released through her social media account, Rosal said they received Tuesday afternoon the Comelec's Resolution disqualifying her as Mayor of Legazpi City.
She said the decision came as a surprise to her, especially the portion where she was found guilty because of "indispensable cooperation" in the distribution of the cash assistance during the election period.
"With all due respect to the Second Division of the Comelec, it is settled in law that a person becomes a principal by indispensable cooperation when he performs an act, without which the offense would not have been accomplished," she said.
"In my case, I cannot fathom how my alleged appearance during the questioned event was "indispensable", considering that it would have pushed through just the same -- with or without my appearance," Rosal said.
Rosal said she will continue to function as the city chief executive in faithful compliance with the mandate bestowed upon her by the majority of the residents and will not answer any further questions about her case.
"The rule on sub judice dictates my silence on the matter from now on. After all, "vox populi est suprema lex" – the voice of the people is the supreme law. Thus, I remain," she said.
In a 19-page resolution promulgated on Tuesday, the division ruled in favor of petitioner Joseph San Juan Armogila, who ran for councilor but lost in the last polls, to disqualify Rosal from the mayoralty race.
The petition filed on April 12 seeks to disqualify the respondent and that her proclamation is suspended and/or deferred until such time that the Commission renders final judgment. (PNA)