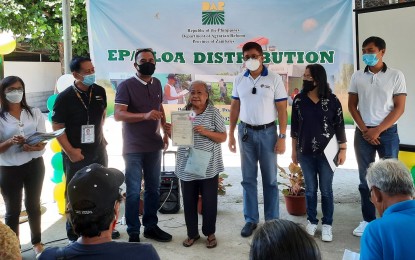 MANILA – A total of 12 proposed measures have been filed before the Senate and the House of Representatives -- all seeking condonation of farmers' unpaid amortizations and interests, including penalties and surcharges, former Agrarian Reform Secretary Rafael Mariano said Wednesday.
In a technical working group meeting of the House Committee on Agrarian Reform, Mariano urged that the condonation bills in Congress must lead to the realization and full enjoyment of agrarian reform beneficiaries (ARBs) of free land distribution, contrary to the existing land reform programs and laws that impose burdensome amortization payments and annual interests payable for a period of up to 30 years.
Mariano specifically proposed that ARBs under Voluntary Land Transfer (VLT)/direct payment schemes (DPS) with landowners must be included in the condonation of amortization.
Under the DPS, the landowner directly transfers land to a beneficiary based on a contract approved by the Department of Agrarian Reform.
Payments are made directly by the ARBs to the landowner and free the government of the obligation to pay landowners compensation.
The proposed measures filed in Congress -- nine in the House of Representatives and three in the Senate -- are aimed to condone all unpaid amortizations and interests, including penalties and surcharges.
"The condonation measures must be clear on the inclusion of ARBs under direct payment scheme. Most of these beneficiaries are awardees of the Marcos-era Presidential Decree 27 who 'defaulted' in paying land amortization and interests," Mariano said.
Mariano also moved for the removal of "conditions to the grant of full ownership" that imposes unjust conditionalities that are not related to the implementation of the land reform program.
Such provisions allow the ownership of awarded lands to revert to the government if the beneficiary fails to comply with conditions under the Conditional Cash Transfer program, community service and training.
Mariano said it is also the State's policy to abolish the remnants of feudalism and other types of unjust tenurial arrangements.
"Bago ang PD (Presidential Decree) 27 at CARP (Comprehensive Agrarian Reform Program), nagbibigay na ng parte ng kanilang ani ang mga tenante sa may ari ng lupa. Nung ma-land reform ang lupa nila at naging ARB sila, pinatawan naman sila ng mabigat na financial obligation na amortisasyon sa lupa at 6 percent per annum interest. Parang ang gobyerno ang pumalit sa landowner na naniningil ng bayad sa lupa (the farmers are giving a portion of their harvest to the land owners. When their lots were placed under land reform and they became ARBs, they were meted with the heavy financial obligation of land amortization at a 6 percent per annum interest. It seems the government has took place of the land owner in charging fees for the land)," he added.
"Ensuring a truly redistributive and free land distribution will fulfill the genuine emancipation of farmers and ARBs." the former DAR chief said. (PNA)