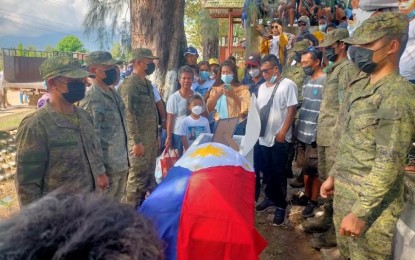 BACOLOD CITY – A member of the Civilian Armed Forces Geographical Unit (CAFGU) Active Auxiliary (CAA) killed by New People's Army (NPA) rebels in Moises Padilla town in Negros Occidental province was given full military honors by troops of the Philippine Army's 62nd Infantry Battalion (IB) during his interment on Oct. 2.
Joselito Raboy, 40, was gunned down by four assailants while traveling on a motorcycle at Sitio Kabayabasan, Barangay Montilla on Sept. 24.
1Lt. Roselyn Balean, acting civil-military operations officer of 62IB, said on Wednesday they honored Raboy for his patriotism by working alongside the soldiers in keeping the peace in remote villages facing threats from communist terrorists.
Raboy was unarmed and had just left the Quintin Remo Patrol Base when he was waylaid by the communist rebels.
"We gave him a 21-gun salute rendered by our personnel and his wife received the Philippine flag when he was laid to rest at the town's public cemetery," Balean said.
The NPA in central Negros has claimed responsibility for the death of Raboy, calling him an active ally of the military, in a statement issued also on Oct. 2.
Balean said Raboy, who served as CAFGU member for more than a year, was a dedicated civilian volunteer, a law-abiding citizen, and a good family man.
"The role of the CAA as force multipliers is very important in maintaining peace and order in the area as part of the Integrated Territorial Defense System," she added.
Raboy was survived by his wife and three young children, who received an initial financial aid of PHP50,000 from the Command Welfare Assistance Fund.
Balean said the 62IB is coordinating with the Moises Padilla Municipal Police Station in the filing of a criminal case against the perpetrators. (PNA)