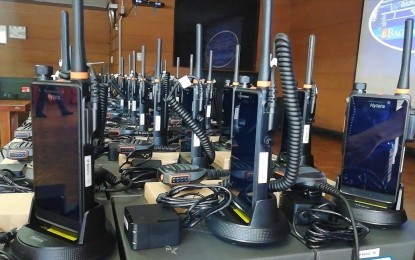 BAGUIO CITY – The city government has turned over 100 units of Hytera equipment to the Baguio City Police Office (BCPO) to make communication easier and faster and facilitate the monitoring of the situation on the ground.
Col. Francisco Bulwayan, newly installed officer-in-charge of the BCPO, said Wednesday on the sidelines of the turn-over ceremony that "this is in keeping with the thrust of the city government to make Baguio a smart city."
Bulwayan said the communication equipment, the first of its kind, will be "very useful" in assuring the safety of the public.
"The radio is the smartest communication facility. As you can see, this new leadership will be focused on the desire of the LGU (local government unit) of the city," he said.
MJ Barin, information technology specialist of ITBS Solutions, the provider of the equipment, said the contract price of PHP7.2 million includes the training of police officers, as well as the provision and installation of a repeater system at Mt. Santo Tomas, the highest elevation that hosts the transmitters of the different media outfits.
"It can communicate via cell(ular) phone and police can communicate even if they are outside Baguio because of the dual sim card. Using the Hytera radio, the police can communicate to the command center," he said.
The city's PHP200 million worth of command center funded by the Office of the President houses all the smart traffic systems, disaster response systems, and high-end technologies that continue to be installed in all corners of Baguio.
"We already successfully integrated this to the existing radio of BCPO, may interoperability siya (there is interoperability)," he added.
In the absence of a cellular phone signal, Barin said the holder of the radio can still use the unit to communicate because of the repeater that was installed at Mt. Santo Tomas.
He said that being a cellular telephone, a video call can be conducted and transmit audio as well as videos from the ground.
Once deployed and held on the field, Barin said the location can also be monitored at the command center. (PNA)