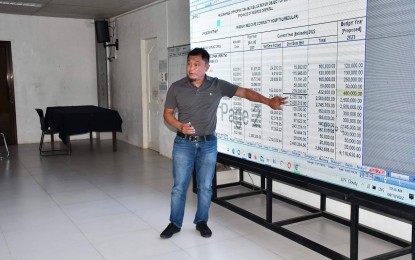 DUMAGUETE CITY – Pryde Henry Teves on Wednesday said that he is still the governor of Negros Oriental as the Supreme Court (SC) has not yet ruled on his Temporary Restraining Order (TRO) contesting the nullification of his proclamation.
"At this moment, I am your governor. There is no order yet that I am uninstalled or unseated (from my current position)," Teves said during his regular weekly press briefing at the Capitol.
He said he talked to Department of the Interior and Local Government (DILG-7) Director Leocadio Trovela on Tuesday evening and learned that they also did not have an order to remove him from office and are even "confused on how to interpret" the copy of the Commission on Elections (Comelec) en banc's writ of execution furnished them.
Teves was referring to the Comelec en banc decision dated September 27 nullifying his election victory in the May 9 polls after his closest rival candidate, Roel Degamo, garnered more votes than him and was proclaimed on Oct. 3 as the new governor of Negros Oriental by a special provincial board of canvassers.
Degamo's victory stems from the transfer of votes from another gubernatorial candidate, Grego Gaudia, who went by the name of Ruel Degamo during the last elections, whom the poll body later declared a nuisance candidate.
The Comelec en banc ruled to have Ruel's votes counted in favor of the other Degamo.
Teves' camp has filed for a TRO with the Supreme Court contesting the nullification of his proclamation.
The SC is expected to come up with a decision as early as Oct. 11 as it has been calendared already, which Teves said he will respect, regardless of whether it is in his favor or not.
In the meantime, he said he suggested to Trovela to wait for the Supreme Court decision, otherwise, it would be like a "ping-pong game", if he was removed today only to be reinstalled afterward if the High Tribunal would rule in his favor.
Trovela traveled all the way from Cebu City to meet with Teves to discuss the current situation in what now appears to be a dilemma for the DILG, who is being "pressured" by Degamo to install him as governor.
Meanwhile, Teves continued his duties and responsibilities as the governor of Negros Oriental, signing documents and even meeting with department heads for budget meetings for next year. (PNA)