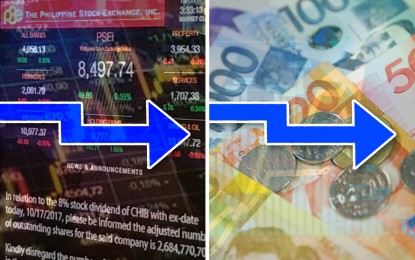 MANILA — The main equities index barely moved on Wednesday while the peso was unchanged against the greenback even with the jump in the rate of domestic price increases for September 2022.
The Philippine Stock Exchange index (PSEi) gained by 0.01 percent, or 0.87 points, to 5,988.59 points.
All Shares registered a higher increase at 0.30 percent, or 9.50 points, to 3,219.98 points.
Majority of the sectoral gauges also gained during the day, namely Services, 1.30 percent; Financials, 0.98 percent; Mining and Oil, 0.74 percent; and Industrial, 0.23 percent.
On the other hand, Property fell by 0.82 percent and Holding Firms by 0.61 percent.
Volume remained thin at 644.59 million shares amounting to PHP4.82 billion.
Advancers led decliners at 105 to 82 while 46 shares were unchanged.
"Philippine shares closed slightly higher as the latest inflation report was a non-event and the weakening in the most recent US job openings data opened some concerns on the global economic stability," said Luis Limlingan, Regina Capital Development Corporation (RCDC) head of sales.
The Philippine Statistics Authority (PSA) reported earlier in the day the acceleration in domestic inflation rate to 6.9 percent last September from 6.3 percent in the previous month due to upticks in the food and non-alcoholic beverages index.
Limlingan projected the September inflation rate at 6.8 percent, with the uptick expected to increase the chances of more hikes in the Bangko Sentral ng Pilipinas' (BSP) key policy rates.
The US' job openings and labor turnover survey (JOLTS) fell by 10 percent month-on-month to 10.05 million in August 2022.
"Due to this, investors are now entertaining the idea of whether the Fed (Federal Reserve) will slow the pace of interest rate hikes," he said.
For the remaining days of the week, Limlingan said economic reports from the US that will be focused on by traders include the weekly mortgage applications, private payrolls reports, and international trade prints.
He said oil prices climbed anew ahead of the OPEC+ meeting.
Limlingan added Brent crude oil futures rose by 3.18 percent to USD91.69 per barrel and the West Texas Intermediate (WTI) by 3.28 percent to USD86.37 per barrel.
Meanwhile, the peso was unchanged at 58.65 against the US dollar.
It opened the day at 58.6, better than its 58.88 start in the previous day.
It traded between 58.78 and 58.39, resulting in an average of 58.624.
Volume reached USD861.15 million, higher than the USD779.1 million on Tuesday. (PNA)