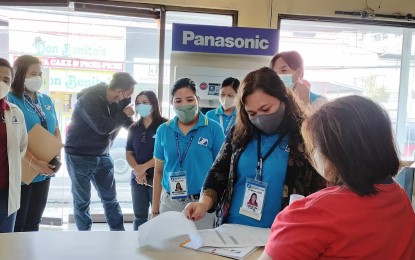 MALOLOS CITY, Bulacan – The Social Security System (SSS) has issued notices to seven delinquent establishments here as part of its "Run After Contribution Evaders " (RACE) campaign.
SSS Vice President for Luzon Central 2 Division Gloria Corazon Andrada said on Wednesday the written notices were served to the delinquent employers last Sept. 30 informing them to settle their obligations under the provisions of Republic Act No. 11199 or Social Security Act of 2018 within 15 days from receipt of the order.
"This is our 12th and last RACE operation in the Luzon Central 2 Division for the year.The settlement of delinquency amounting to PHP8.2 million from this operation alone will benefit 185 employees," Andrada said in a statement.
She added that the RACE campaign aims to provide social security protection to employed members through regular and timely remittance of Social Security and Employees' Compensation Contributions and to reinstate the good standing status of delinquent employers.
To date, there are 82 employers subjected to the program, of which 34 have complied and settled their delinquencies with an initial collection of PHP8.1 million, Andrada said.
Meanwhile, the SSS has launched new programs that will help employers, both regular and household, to settle their delinquencies.
"Business employers who are financially incapable to pay their delinquency due to economic crisis, serious business losses or financial reverses, or resulting from natural calamity or man-made disaster without fault on their part may apply for Contribution Penalty Condonation Delinquency Management and Restructuring Program (CPCoDe MRP) while delinquent household employers may submit their application for Contribution Penalty Condonation and Restructuring Program (CPCR-P) starting today," Andrada said.
She said the SSS would also open two new programs under the Calamity Assistance Package (CAP) for members and pensioners affected by Super Typhoon Karding.
These are the Calamity Loan Assistance Program (CLAP) for members and the Three-Month Advance Pension for SSS and Employees' Compensation pensioners. (PNA)