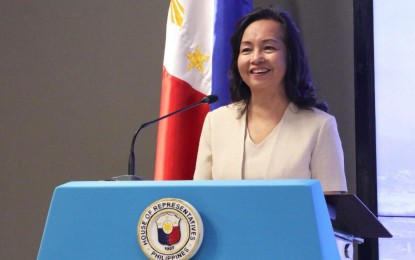 MANILA – In his first 100 days, President Ferdinand "Bongbong" Marcos Jr. has reassured everyone by choosing "an impressive team" to steer the economy through its recovery from the Covid-19 pandemic amid continuing global tensions, Senior Deputy Speaker Gloria Macapagal-Arroyo said on Wednesday.
"I think the President's first 100 days serves two purposes: first, to give the nation and the world a message to inspire confidence relative to the area of greatest concern; and second, to give the Filipino people an idea of the leadership style of the President," the former Philippine president said in a statement.
Marcos' economic team is composed of highly-seasoned and competent economic leaders composed of Finance Secretary Benjamin Diokno, Central Bank Governor Felipe Medalla, Budget Secretary Amenah Pangandaman, Arsenio Balisacan as secretary of the National Economic and Development Authority and former University of the Philippines president Alfredo Pascual as Trade secretary.
"In President Marcos Jr.'s case, in the wake of the pandemic and global tensions in Ukraine and Taiwan, the adverse economic impact of these crises is topmost on most minds. President Marcos reassured everyone by assembling an impressive economic team that has been universally praised," said Arroyo, who is now a returning congressional representative of the 2nd District of Pampanga.
A day after President Marcos said in his first State of the Nation Address (SONA) his administration will bring down poverty to 9 percent by the end of his six-year term and bring the Philippines to "upper-middle income status by 2024," his economic team unveiled an eight-point agenda aimed at achieving his administration's goals, while exercising fiscal discipline.
These are to protect purchasing power and mitigate socioeconomic scarring by ensuring food security, reducing transport and logistics costs, and reduce energy costs to families; reduce vulnerability and mitigate scarring from the Covid-19 pandemic by tackling health, strengthening social protections, and addressing learning losses; ensure sound macroeconomic fundamentals by enhancing bureaucratic efficiency and sound fiscal management and ensuring a resilient and innovative financial sector;
Create more jobs by promoting trade and investments, improving infrastructure, and achieving energy security; create quality jobs by increasing employability, encouraging research and development and innovation, enhancing digital economy; create green jobs by pursuing green economy and establishing livable and sustainable communities; uphold public order and safety, peace, and security; and ensure a level playing field by strengthening market competition and reducing barriers to entry and limits to entrepreneurship.
The near-term goal of the agenda seeks to address the immediate challenges confronting the Filipino people like rising prices and scarring from the Covid-19 pandemic, as well as ensuring sound macroeconomic fundamentals. For the medium term, the goal is to create more quality jobs and green jobs through higher investments in infrastructure, human development, and digitalization.
His economic team said the 8-point agenda reaffirms the Marcos administration's commitment to build a robust economy for faster, greener, and more inclusive growth that benefits all Filipinos.
As for the second purpose, Arroyo said Marcos "has projected himself well as a calm, thoughtful leader who is true to his promise to promote unity and be a president for all."
This was highlighted when Marcos kept his SONA "covenant" with agrarian reform beneficiaries and overseas Filipino workers.
During his SONA, the President promised, among other things, to sign an executive order (EO) imposing a yearlong moratorium on the payment of land amortization and interest payments of agrarian reform beneficiaries (ARBs) and launch a One Repatriation Command Center (ORCC) for distressed overseas Filipino workers (OFWs).
True to his word, Marcos issued EO 4 on Sept. 13 -- which is also the day he celebrated his 65th birthday -- to unburden ARBs of their debts for agricultural lands distributed under the Comprehensive Agrarian Reform Program (CARP).
"Para sa mga kababayan nating naiipit sa kaguluhan, inaabuso, at nanganganib ang buhay, ikinagagalak kong sa ilalim ng aking pamumuno, ay ilulunsad natin ang One Repatriation Command Center o ORCC. Ilalaan natin ang isang social media platform ng Department of Migrant Workers (DMW) at ang hotline upang matulungan agad at mailigtas sila mula sa mas higit na kapahamakan (For our countrymen trapped in conflicts, being abused, and whose lives are in danger, I am happy to say that under my administration, we will launch the ORCC. We will put up a DMW social media platform and a hotline to immediately help and rescue them from greater danger)," Marcos said during his SONA.
True enough, the Department of Migrant Workers (DMW) has launched the One Repatriation Command Center (One-Repat DMW) for distressed OFWs and their families wishing to be "rescued" and repatriated back home.
In fact, the ORCC was launched on July 20, even before Marcos announced it in his SONA.
With the ORCC, all the families of distressed OFWs need to do now is to call the One-Repat DMW hotline 1348, or OFWs can email to [email protected]. A team of case officers, welfare officers and medical professionals will assist them with their concerns.
The Marcos administration also came out with Medium-Term Fiscal Framework (MTFF) to guide the crafting of annual budget. It was immediately adopted by both Chambers of Congress.
With the MTFF in mind, the House on Sept. 28 approved on final reading the first budget bill under Marcos, the PHP5.268-trillion General Appropriations Bill for 2023.
Once approved in the Senate and ratified by both Chambers of Congress, it will be sent to President Marcos for his signature. (PNA)