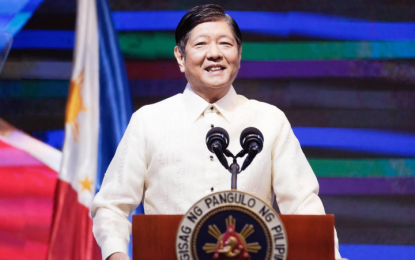 MANILA – President Ferdinand "Bongbong" Marcos Jr. on Wednesday vowed to support and protect media rights under his administration, citing his willingness to lend an ear and listen to all their concerns.
He made this commitment during the President's Night organized by the Manila Overseas Press Club at the Sofitel Plaza in Pasay City, which was attended by over 400 media professionals and top executives of the country's biggest corporations.
"Under my lead, we will support and protect the rights of the media as they efficiently perform their duty. Whatever difficulties we may encounter from this point on, the government will always be ready to lend an ear and to listen to your concerns and to answer all that you may want to know," he said in his speech.
Marcos acknowledged the crucial role of the press in building an active citizenry that contributes to society's development.
"The nation counts on media in improving access to information and increasing awareness on issues that affect our country and the world," he said.
He cited the importance of the media's "proactive participation" in keeping well-informed citizens that "forms part of our collective goal to empower Filipinos and establish a more robust Philippines."
Marcos also vowed to continue articulating his administration's plans to the members of the media.
"As I share your club's conviction in the importance of upholding the universal right of free speech and press freedom, as well as giving and receiving accurate information, I'm committed to remain open with you, constantly communicating our progress as we move forward," he added.
Meanwhile, he urged the media to effectively communicate to the public the government's efforts and initiatives towards the country's development.
"It is the job of our media practitioners to not only analyze, not only give their opinion, but to also inform and let our people know what the government is doing and how it will help their lives, and how they can be part of that process of progress that we have started," he said.
Rather than being a leader, Marcos said he would be the media's partner in efforts to lead the nation to realize its shared aspirations.
In the same event, Marcos also reiterated his call for unity towards progress and the improvement of Filipino lives.
"Unity remains one of the primary driving forces in pursuing economic recovery," he said.
Founded in 1945 by foreign correspondents who came to Manila with General Douglas MacArthur, MOPC is Asia's oldest press club.
On Tuesday, Senior Deputy Executive Secretary Hubert Guevara said Marcos is "concerned" over the killing of veteran broadcaster Percival C. Mabasa, more popularly known as "Percy Lapid", who was shot dead by two gunmen on Monday while on his way home.
Guevara said the Palace is also looking into the conduct of the investigation on the ambush, which took place at the gate of BF Resort along Aria Street, Barangay Talon 2 in Las Piñas City. (PNA)