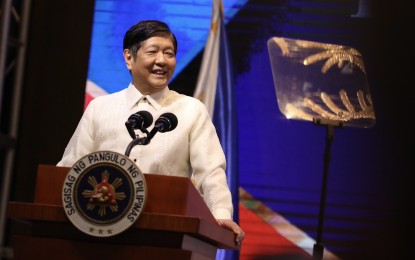 MANILA – The Philippines must play a leadership role in peacemaking negotiations because it is in the nation's interest, President Ferdinand "Bongbong" Marcos Jr. said Wednesday.
During the President's Night organized by the Manila Overseas Press Club held at the Sofitel Philippine Plaza in Pasay City, Marcos said it would be a failure on the part of the country not to take a lead in efforts to address regional and global conflict.
"I do not think we have a choice. We must play a leadership role because it is in our interest. And if we do not do it, we are not doing our jobs as the protectors of our country, of our state, of our territory, of our people, if we do not take that leadership role," he said.
Marcos emphasized the need to strengthen Asean by presenting a "united front" to address conflicts in the region amid challenges posed by North Korea and China-Taiwan tensions.
"It is my belief that we must strengthen our organizations and specifically in this case I'm talking about Asean. And I think Asean can do more than it has done thus far," he said.
He also stressed that several Asean member countries may be more effective than just a single country.
"Although we don't dismiss bilateral contacts, bilateral negotiations, multilateral negotiations outside of Asean, within Asean. Again, I think we should continue to try and push our member neighbors to present that united front and to move that united front forward," he added.
Marcos bared his plan to propose during the upcoming Asean conference in November several actions towards their goal of attaining regional peace.
"I think it's time to put forward some concrete proposals on what we can do to at the very least bring the -- at least representatives of the military government to the table so we can begin to talk about these things," he said.
Citing his speech delivered during the 77th session of the United Nations General Assembly, Marcos also reiterated his desire to "abandon" the idea of nuclear weapons.
"We should remove that kind of Cold War thinking already from our geopolitics and remove and lessen, lower the stockpiles of -- and make them… And finally to at some point, to remove from the face of the earth any nuclear weapons," he said.
Meanwhile, Marcos recognized the need for the Philippines to "deal with Russia" for fuel supply as well as Ukraine for agriculture imports.
"We take a very balanced view because the truth of the matter is we may have to deal with Russia for fuel, for fertilizer. We have to deal -- find a way to deal with Ukraine for our feed wheat, our corn importation -- all of these things… our livestock importation. All of these things have now become part of the mix that has has made the world situation more volatile and more complex than it was before," he said.
He also wanted to take on a new approach to dealing with the Rohingya crisis in Myanmar, which could involve engaging the military representatives.
"I think it's time to put forward some concrete proposals on what we can do to at the very least bring the --- at least representatives of the military government to the table so we can begin to talk about these things," he added. (PNA)