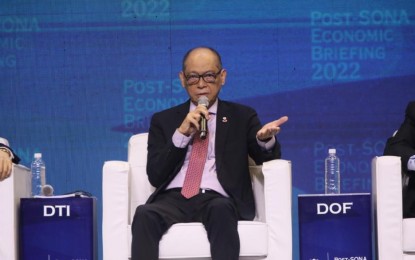 MANILA – The government again tapped the international market through the issuance of US$2 billion-worth of multi-tranche fixed rate global bonds, including a 25-year environmental, social and governance (ESG) bond, its third so far this year.
In a statement on Thursday, the Bureau of the Treasury (BTr) said the first global bond issuance under the second Marcos administration include a five-year, 10.5-year, and 25-year debt paper.
It said the five-year tenor fetched a coupon of 5.170 percent, 120 basis points higher than the same tenor of the US Treasury.
Also, the 10.5-year's coupon rate stood at 5.609 percent, 185 basis points higher than the US Treasury with the same tenor.
BTr said these rates are "35 bps tighter than an initial pricing guidance of US Treasury plus 155 and 220 bps area, respectively."
Coupon of the 25-year debt paper stood at 5.950 percent, 45 bps tighter than the pricing guidance of 6.550 percent, it said. BTr said the paper was priced at 6.100 percent.
The latest debt issuance is the third for the country this year following the US$2.25 billion three-tranche bond offering last March and the four-tranche yen-denominated Samurai bond worth 70.1 billion Japanese yen in April.
Finance Secretary Benjamin Diokno said the first debt issuance under the current administration "demonstrates investors' confidence in the new government and the administration's six-year plan of economic transformation to a more inclusive, resilient and prosperous economy."
"The eight-point agenda of the new administration will improve real GDP (gross domestic product) growth, improve government finances, protect purchasing power, mitigate socioeconomic scarring and create more quality jobs," he said.
Relatively, Finance Undersecretary Mark Dennis Joven cited the strong demand for debt issuance.
"The repeated successes of all international bond issuances by the Republic reflects the strong following from the global investor community for the Philippines and is a testament to the Republic's robust credit profile and sound government finances," he said.
Also, National Treasurer Rosalia de Leon said the latest bond sale "is an indication of the Philippines' readiness to brave choppy waters in pursuit of excellent results."
"Just as we were able to deftly capture a good execution window amid a daunting volatile market environment to attain our financing objectives at favorable cost, we too shall rise above the present difficulties through our eight-point economic blueprint toward differentiating ourselves as the prime destination of choice among quality-conscious investors," she said.
Proceeds of the shorter-dated debt papers will be used for budgetary support while that of the 25-year will be utilized to "finance or refinance assets under the Republic's Sustainable Finance Framework," the statement said.
The government tapped Standard Chartered Bank and UBS as joint sustainability structuring banks for the transaction while BofA Securities, Goldman Sachs, HSBC, J.P. Morgan, Morgan Stanley, SMBC, Standard Chartered Bank, and UBS were tapped as joint bookrunners, it added. (PNA)