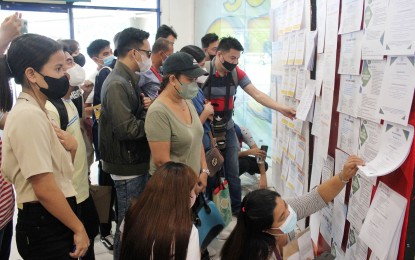 MANILA – National Statistician and Civil Registrar General Dennis Mapa on Thursday said the number of employed Filipinos increased by 478,000 to 47.87 million in August 2022 from 47.39 million recorded in July this year.
He said the 47.87 million employed persons are also 3.64 million higher compared to August 2021.
The August 2022 employment rate of 94.7 percent, however, was slightly lower than the 94.8 percent in July 2022 but higher than the 91.9 percent logged in August 2021.
The August 2022 Labor Force Survey Results (LFPR) presented by the Philippine Statistics Authority (PSA) showed that the Philippine labor force in August was at 50.55 million or 2.44 million higher than the August 2021 data and 557,000 better compared to July 2022.
On the other hand, the number of unemployed Filipinos in August 2022 also rose to 2.68 million or 79,000 higher compared to 2.60 million in July 2022.
Mapa said the simultaneous increase in the number of employed and unemployed Filipinos could be traced to the higher labor force participation turnout in the same period.
The labor force participation in August among male Filipinos was 76.2 percent and 55.9 percent for females.
"Karamihan diyan nagiging employed pero may portion na nagiging unemployed. Ang karamihan na unemployed, itong yung mga first time pumasok sa labor force. Ang kadalasan dito na age group ay yung 15-24 at 24-35. Ang karamihan talaga yung 15-24. 79,000 ang dagdag sa unemployed pero kung titingnan naman natin yung other side 478,000 yung dagdag sa employed (Most of them became employed but there are portion that are unemployed. Most of the unemployed, are first time in labor force. Usually, the age group belong to 15-24 and 24-35. But most of them 25-24 age group. There are 79,000 additional unemployed but if you look at the other side, 478,000 have been employed)," Mapa said in a press conference.
Along with the employed and unemployed, the underemployed Filipinos also increased to 7.03 million or 14.7 percent which is higher by 488,000 compared to 6.54 million in July 2022.
Among the sectors, the services sector still has the highest share in the number of employed Filipinos at 28.68 million or 59.9 percent followed by the industry sector with 8.37 million (17.5 percent) and the agriculture sector with 10.82 million (22.6 percent).
The August 2022 LFPR also reported that the wholesale and retail trade and repair of motor vehicles and motorcycles topped the sub-sectors with 11.04 million employed Filipinos or 378,000 better compared to 10.67 million in July 2022 followed by transportation and storage with 3.41 million and manufacturing with 3.67 million.
Meanwhile, agriculture and forestry recorded the highest decrease in employment with 140,000 followed by fishing and aquaculture and construction with 124,000 and 81,000 decrease, respectively.
Mapa said the top reason for the decrease is the higher price of diesel which is one of the basic needs of these sectors, especially the farmers and fisherfolk.
"Dalawa yung nakikita namin dito, of course yung weather pero yung iba, ito talaga yung tinatamaan - yung pagtaas ng presyo ng diesel. So, nakikita natin na pwedeng naapektuhan ang kanilang paglabas (Two things have been identified as reasons, of course weather but others have been affected by the increase of diesel prices. So these really affect their livelihood)," he said. (PNA)