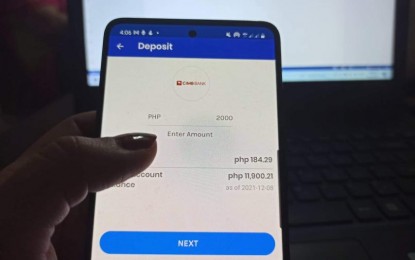 MANILA – Makati City 2nd District Rep. Luis Campos Jr. has filed a resolution at the House of Representatives "strongly urging" the Bangko Sentral ng Pilipinas (BSP) to retain the existing limits on credit card charges to help Filipino consumers cope with inflation that hit a four-year high of 6.9 percent in September.
"We want the BSP to keep credit card pricing reasonable and within reach of consumers that are now reeling from the soaring cost of goods and services," Campos said in a statement Thursday.
He said salaried Filipinos are struggling to make ends meet.
They are increasingly relying on their credit cards to make essential purchases and to pay bills, including the tuition fees of their children, he added.
In House Resolution 459, Campos urged the banking regulator to preserve the 2 percent maximum monthly interest rate on unpaid outstanding credit card balances.
The resolution also urged the BSP to maintain the maximum 1 percent monthly add-on rate on credit card installment loans, and the PHP200 per transaction ceiling on cash advance processing fees.
The BSP is set to review all three thresholds next month.
In three previous semi-annual reviews, the banking regulator decided to keep the caps.
"The lifting of the ceilings would only aggravate the financial burden of consumers," Campos said.
According to the BSP, more than 10.3 million Filipinos have been issued credit cards, and the banking system's credit card receivables stood at PHP478.4 billion as of June 30, 2022.
Campos' resolution wants the force and effect of BSP Circular 1098 series of 2020 kept unchanged.
The circular was issued two years ago, amid the severe economic difficulties, including job losses, caused by the coronavirus disease 2019 (Covid-19) pandemic.
Before the imposition of the caps, banks charged interest rates of up to 42 percent per annum (or 3.5 percent per month) on unpaid outstanding credit card balances.
Banks also collected up to PHP500 per transaction in cash advance processing fees.
The lawmaker reminded the BSP of the Consumer Act of 1992, or Republic Act 7394, which says, "it is the policy of the State to protect the interest of the consumer, promote his general welfare, and to establish standards of conduct of business."
"Keeping the caps on credit card charges unchanged would discourage banks from unduly profiting from their credit card business and unjustly enriching their shareholders at the expense of consumers," Campos said. (PNA)