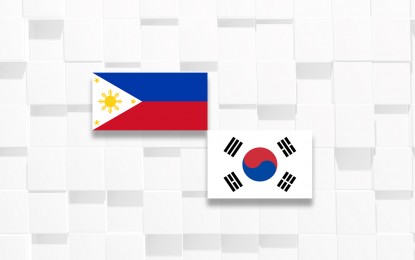 MANILA – The Philippines continues to see South Korea as a close partner and staunch supporter of its development agenda.
At the Korean National Day celebration in Taguig on October 5, Foreign Affairs Assistant Secretary Neal Imperial said Manila recognizes Seoul as a "global economic leader" and sees its industrialization and growth over the years as a model.
"Its ascent, overcoming conflicts and other existential challenges, is nothing short of impressive. Its industrialization and rapid economic rise served as a model for all developing countries," Imperial said.
"Korea, for the Philippines, is a global economic leader, a close neighbor, and staunch supporter of the development agenda to transform the Philippine economy and society for the better."
Korean Ambassador Kim Inchul, meanwhile, underscored Seoul's intention to make the most of the two nations' ties, one that could be felt by the Filipino and Korean people themselves.
"As a well-known saying in the entertainment business goes 'talent is universal but opportunity is not.' Paraphrasing it, I would say friendship among nations is universal but opportunity to really make it felt and shared between our people is not," he said.
Korea is among the top providers of official development assistance to the country, with its contribution as of 2020 alone reaching USD809.9 million, according to the National Economic and Development Authority.
Last week, the two countries exchanged the final draft of the framework arrangement for a USD3-billion government credit line for 2022 to 2026, which the Philippines could tap for its infrastructure projects.
The previous framework arrangement covering 2017 to 2022 was at USD1 billion, according to the Korean Embassy in Manila.
"I am more than confident that this momentum will further consolidate the friendship between our two countries. Indeed, true friendship is more called for in these difficult times, a friendship based on sympathy, respect and solidarity, high expectations, and the concomitant trust," Kim said.
In the coming years, Imperial sees these two nations' ties further expanding with the expected signing of a Philippine-Korea free trade agreement (FTA).
Aside from improving market access for Philippine agricultural products, the FTA would facilitate economic and technical cooperation, including on smart farms, film production, and e-vehicles.
Clinical trials on the production of vaccines and continued cooperation between defense industries "are also in the pipeline through this FTA," according to the DFA.
Manila and Seoul started the FTA negotiations in June 2019 and concluded them in October 2021, with the target date for signing set in November 2022. (PNA)