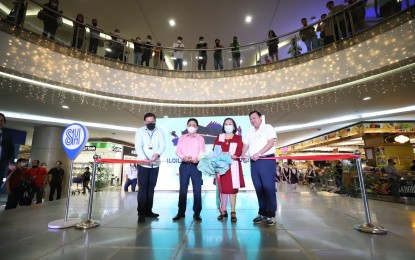 ILOILO CITY – The city government here is committed to developing and sustaining local talents to preserve the rich Ilonggo traditions and to be the focal point of the art scene in the country.
"We really want to promote all the artists and the arts scenes in Iloilo to achieve the goal of being the arts center of the Philippines," Leny Ledesma, one of the organizers of the visual art for Iloilo Arts Festival, said in a phone interview on Thursday.
The Iloilo Arts Festival, launched on Oct. 5, highlighted the celebration of the "Adlaw sang Ciudad de Iloilo".
The festival was the brainchild of Rosalie Treñas, wife of Mayor Jerry P. Treñas, and was institutionalized with the issuance of an executive order establishing the Iloilo City Local Culture and Arts Council (ICLCAC) alongside the creation of the Committee on Local Heritage Conservation Council last April 5.
ICLCAC manages the annual conduct of programs, projects, and events throughout the year with the grand celebration held every October.
The mayor announced during the launching that the local government would provide at least a PHP2 million budget annually for the arts festival and will continue to look for funds as more artists are interested to join.
"The soul of the city is found in the arts and culture. And Iloilo City will continue to support the Arts Festival. We will only become the queen city of the south again if we continue to inspire our artists, if we continue to support them," he said in his message.
Artists from architecture, cinema, dance and music, and visual arts are taking part in this year's festival.
"We have more than 12 arts groups and more than 150 artists joining us right now. We will have an exhibit of paintings and some sculptors but mostly painting artwork of different materials and genres," she added.
A gallery will be opened in the Festive Parade Walk of the Megaworld in Mandurriao district starting Oct. 26 until Dec.15.
The United Architects of the Philippines-Iloilo chapter will be staging the urban design streetscape competition in an attempt to find the best designs and improve the landscape for the area from Plazoleta Gay and Arroyo Fountain, fronting the Casa Real or the old provincial capitol.
Some snippets of the film and the dance and music arts were shown during the launching on Wednesday held at the SM City here.
The opening of the festival marked the 133rd anniversary of the "Adlaw sang Ciudad de Iloilo," when the then Municipality of Iloilo was bestowed the title "City" on Oct. 5, 1889 by Queen Regent Maria Cristina of Spain, by virtue of a Royal Decree. (PNA)