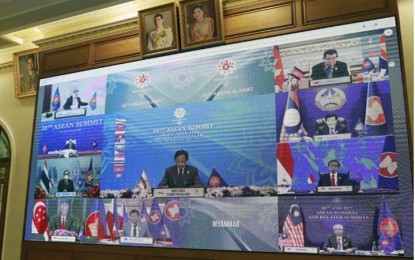 PHNOM PENH – Myanmar's military government will not attend the summit or other related meetings of the Association of Southeast Asian Nations (Asean) to be held in Cambodia next month, diplomatic sources said Wednesday.
The Cambodian government requested Myanmar, which has been under military rule since February 2021, to send non-political representatives to the biannual summit, but the country replied that it will not send anyone to the event, the sources said.
The Asean special envoy to Myanmar, Cambodia's Deputy Prime Minister and Foreign Minister Prak Sokhonn, has said it would be difficult for Asean to invite Myanmar to the regional group's key meetings without progress in implementing the member states' consensus such as ending violence against the military junta's political opponents and civilian protesters.
Asean groups Brunei, Cambodia, Indonesia, Laos, Malaysia, Myanmar, the Philippines, Singapore, Thailand and Vietnam.
Myanmar's military toppled the democratically elected government of civilian leader Aung San Suu Kyi in 2021 and has since violently suppressed pro-democracy protesters. (Kyodo)