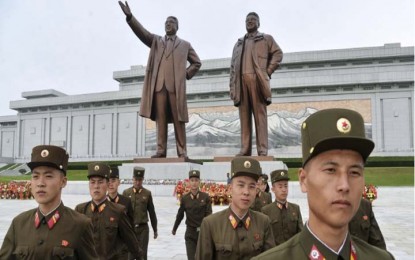 TOKYO – North Korea fired two ballistic missiles early Thursday, the sixth round of launches by Pyongyang since late September, the Japanese government said.
The projectiles fell outside Japan's exclusive economic zone and flew between 350 and 800 kilometers at a maximum altitude of 50 to 100 km, Defense Minister Yasukazu Hamada told reporters.
The South Korean military said North Korea had fired two short-range ballistic missiles from near Pyongyang toward the Sea of Japan between 6:01 a.m. and 6:23 a.m.
The launches came just days after Pyongyang fired a ballistic missile over the Japanese archipelago for the first time in five years, on the heels of joint military drills conducted by South Korea and the United States.
North Korea's Foreign Ministry issued a statement on Thursday saying it "strongly condemns" the United States and other countries for referring Tuesday's ballistic missile launch to the UN Security Council, state-run media reported.
The ministry said the launch was part of "just counteraction measures" in response to the US-South Korea drills, according to the official Korean Central News Agency.
Speaking to reporters soon after the Japanese government's announcement regarding the missile launches, Prime Minister Fumio Kishida slammed North Korea's repeated firing of missiles over a short span of time as "absolutely unacceptable."
Japan had lodged a protest with North Korea through its embassy in Beijing and there were no reports of damage to Japanese aircraft or ships, Hamada told reporters.
North Korea has repeatedly fired ballistic missiles toward the Sea of Japan since late September. The missile on Tuesday covered the longest distance ever for a launch by Pyongyang.
Thursday's launches, the sixth round of firings since Sept. 25, came a day after the US nuclear-powered aircraft carrier Ronald Reagan was redeployed to waters east of South Korea for a joint drill.
Since the start of the year, North Korea has conducted more than 20 rounds of ballistic missile tests in violation of UN Security Council resolutions. (Kyodo)