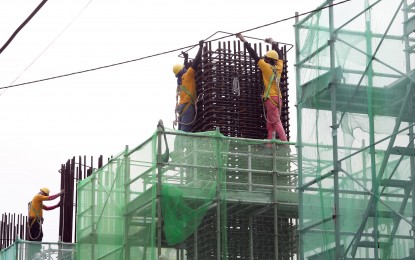 MANILA – The unemployment rate in August 2022 slightly increased to 5.3 percent from 5.2 percent in July this year, the Philippine Statistics Authority (PSA) reported Thursday.
In a press conference, PSA chief and national statistician Undersecretary Dennis Mapa said this means 2.68 million Filipinos in the labor force do not have jobs. This number is higher than the 2.6 million jobless Filipinos aged 15 to 64 years old.
Between July and August 2022, PSA recorded the largest drop in headcount in subsectors of fishing and aquaculture, down by 286,000; construction, down by 258,000; arts, entertainment and recreation, down by 64,000; human health and social work activities, down 37,000; and real estate activities, down by 37,000.
Subsectors where employment increased month-on-month include wholesale and retail trade, repair of motor vehicles and motorcycles, up by 378,000; transportation and storage, up by 256,000; manufacturing, up by 178,000; financial and insurance activities, up by 83,000; and professional, scientific and technical activities, up by 82,000.
Employment rate in August 2022 slipped to 94.7 percent from 94.8 percent in July, while underemployment increased to 14.7 percent from 13.8 percent month-on-month.
Gains of reopening
On the other hand, unemployment rate in August this year is significantly lower than the 8.1-percent joblessness rate a year ago, with a total of 3.88 million Filipinos in the working age group not being employed.
Socioeconomic Planning Secretary Arsenio Balisacan said the significant decline in unemployed Filipinos year-on-year is a result of safe and gradual full reopening of the economy.
President Ferdinand "Bongbong" Marcos Jr., in his first State of the Nation Address, said he would no longer impose lockdowns in the country to combat coronavirus disease 2019 (Covid-19) infections.
"We are seeing economic activities now that we no longer have restrictions, and others are getting the chance to be employed," Mapa said.
Highest labor force participation
Mapa noted that the labor force participation in August 2022, which settled at 66.1 percent, is the highest for this year as well as during the period of Covid-19 pandemic.
The increase in labor force participation was driven by new entrants in the working age population. He said between July and August this year, there is an additional 158,000 entrants coming from 15 to 24 years old age group and 312,000 new entrants from age bracket 25 to 34 years old.
The PSA chief said most of the new entrants were female, but unemployment for women is also higher than men.
Mapa said it is a normal trend that when labor force participation increases, unemployment rate also rises.
"Karamihan ng unemployed sa kanila, ito 'yung mga first time na pumasok sa labor force (Most of the unemployed are those who joined the labor force for the first time)," he said.
High-quality jobs
In a separate statement, Balisacan, who is also the National Economic and Development Authority (NEDA) director general, said prioritizing investment opportunities and boosting the human capital will help in creating high-quality and resilient jobs.
"We must further strengthen our policy interventions so we can generate more jobs, green jobs, and high-quality jobs that provide adequate income for Filipino workers and to attain significant poverty reduction. These are necessary steps towards achieving economic transformation," he said.
The NEDA chief added that policies are in place to attract investments and generate high-quality jobs for Filipinos.
"[W]e must harness the benefits of our key economic liberalization laws such as the Public Service Act, Foreign Investments Act, and Retail Trade Liberalization Act. These reforms would attract high-value and innovation-driven investments which, in turn, could generate more and quality employment," Balisacan said. (PNA)