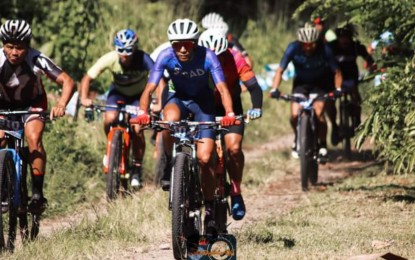 BACOLOD CITY – Young people in this city have been reminded to observe proper conduct in celebrating the 43rd Masskara Festival, which is being held from October 1 to 23 after a two-year respite due to the coronavirus disease 2019 (Covid-19) pandemic.
The reminder was issued in a resolution passed by the City Council on Wednesday afternoon after a viral video showed a group of spectator-bikers doing a "malicious act" of offering water from an unsafe source to a participant during the 1st Balik Yuhom XC Race held on October 2.
The same video showed the water was fetched from a stream.
"This is in connection to the incident (that) happened during the bike fest," Councilor Israel Salanga, author of the resolution, said in a Facebook post.
In the resolution, the City Council requested the City Information Office through Mayor Alfredo Abelardo Benitez to conduct widespread reminders to the public, especially the young people, "to observe good values, manners, and conduct in celebrating the Masskara Festival."
"Young people, please do your part. I understand committing mistakes is part of growing up, but there should be limitations. This resolution is not only addressed to those involved in what happened during the bike fest, but also to all the young people planning to celebrate Masskara Festival. Enjoy, but please be responsible," Salanga added.
In a separate statement, Councilor Jesus Puentevella, chair of the committee on health and sanitation, condemned the incident, calling the actions of the group of bikers "reckless and callous."
He said it is also "a total disregard to public health and safety," considering that the city is facing threats from cholera and other water-borne diseases.
Organizers of the 1st Balik Yuhom XC Race denounced as well what they considered a "malicious act" toward one of the participants, a member of the LGBTQ community who won the race in their category.
Roseller "Jojo" Ramos, a member of the organizing group Team Armands, said they immediately acted and contacted one of the three persons involved as the other two suspects seemed to have deactivated their accounts.
"We would like to put it on record that the culprits were not race participants, but spectators who should have been more circumspect in their actions, considering that we want everybody, especially those who traveled here for the race, to enjoy our Masskara Festival," Ramos added. (PNA)