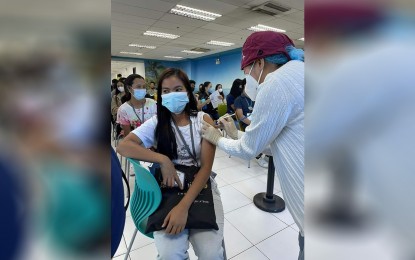 BACOLOD CITY – Residents here were encouraged by the city government on Thursday to already avail themselves of initial doses and booster shots against the coronavirus disease 2019 (Covid-19) amid limited vaccine supply.
"The Bacolod city government is encouraging all unvaccinated Bacolodnons to get vaccinated. Get your vaccines and boosters as soon as possible to protect yourself from Covid-19," it said in a statement.
Currently, the vaccines available are Sinovac and Pfizer brands for adults "with limited supplies left", based on the data from the City Health Office cold room.
Vaccination for children 5 years to 11 years is still on hold, the statement added.
Data released by the Department of Health (DOH) 6 (Western Visayas) on Thursday showed that as of October 5, Bacolod has fully vaccinated 518,972 individuals in the 18 to 59 age group, which at a 201.67 percent coverage rate, is more than double the target of 257,332 individuals.
Likewise, 79,585 or 30.93 percent have received first booster doses while 6,346 or 2.47 percent have availed of second booster shots.
Among senior citizens, or the 60 years and above population, 79,425 individuals or 154.04 percent have been fully vaccinated.
First booster shots have been administered to 14,882 elderly citizens or 28.86 percent while 2,800 or 4.62 percent were given second booster doses.
Under the DOH's "PinasLakas" campaign, Bacolod needs to administer booster shots to at least 50 percent of the adult population by October 8.
During the "PinasLakas" launch here in August, DOH-6 Director Adriano Suba-an urged residents to avail of the Covid-19 booster shots to have a safer celebration of the Masskara Festival, which runs until October 23.
"We can celebrate Masskara Festival with confidence, knowing that after, the cases will not increase and people will not get sick," he added. (PNA)