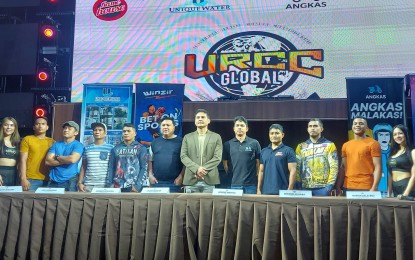 MANILA – Bare-knuckle boxing makes its way to the Philippines with four bouts scheduled at URCC 80 at the Xylo at the Palace in Taguig on October 27.
Bare-knuckle boxing was actually the original form of sports boxing until boxing gloves became mandatory in 1867.
However, bare-knuckle boxing experienced a resurgence last decade, especially in England, inspiring URCC founder Alvin Aguilar to bring the sport to his promotion.
"It's worth noting that BKF (bare-knuckle fighting) is steadily gaining popularity in the US and Europe, so it's only a matter of time before it enjoys mainstream acceptance here," Aguilar said.
Renowned talent manager Arnold Vegafria, also the URCC chairman, believes that holding a bare-knuckle fight could be a crowd drawer.
"We at URCC feel that Filipino fight fans are clamoring for something more exciting, and this could very well be what we've all been waiting for!" Vegafria said.
A bare-knuckle bout will actually headline the mixed martial arts card with rapper Kenjhons Serrano taking on vlogger Map Soberano.
Three bare-knuckle bouts have been announced too in the undercard: Rocky Vergara against Marvin dela Cruz, Kimbert Alintozon against JV Baldonasa, and Mark Alcoba against Zarco Gales.
For now, bare-knuckle boxing will be a demonstration sport in the URCC, where fighters will only clash for three rounds of two minutes each, but according to Aguilar, some of the usual boxing rules, like the 10-point must-score system, will be used as well.
Despite the bouts being just mere exhibitions, tension quickly rose during the URCC 80 press launch on Thursday at the said nightclub, especially among the protagonists for the main event.
Both Serrano and Soberano, who are making their combat sports debut, traded barbs and had a heated moment too during the face-off.
Serrano lit up his fist straps in the fire to show off against Soberano, but the latter, probably not amazed with the flaunting, hurled some choice words at the former, leading to Serrano shoving Soberano off with Aguilar and the security personnel dragging both rookie pugs from each other to pacify matters.
The trash talk, however, spilled to their teams as some members of Team Kenjhons and Team Map almost went to blows as well.
Three mixed martial arts (MMA) fights have been announced too.
Ruel Catalan, the brother of ONE Championship veterans Rene and Robin, takes on Edrion Macatangay in one flyweight fight, while the other battle at the 125-pound division will pit Rex de Lara and Jayson Margallo.
The other MMA bout scheduled for October 27 is a bantamweight showdown between John Ornido and Janedie Bernardo. (PNA)