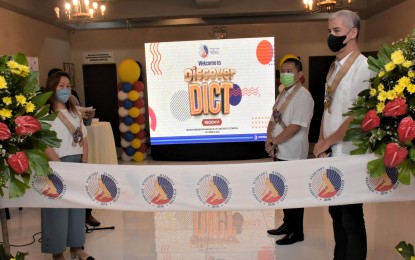 BACOLOD CITY – The Department of Information and Communications Technology (DICT) is strengthening its partnerships with various sectors in Negros Occidental through the "Discover DICT Region 6", which opened at the Negros Residences here Thursday.
Themed "Forging Excellence in ICT Capability Building Amidst the Pandemic through Stronger Ties", the event included a Roadshow of DICT 6 (Western Visayas) Projects and the ICT Literacy Competency and Development Bureau (ILCDB) Partnership Summit.
DICT Assistant Secretary for Upskilling Jeffrey Ian Dy said the "Discover DICT Region 6", spearheaded by Regional Director Jane Javellana, is the agency's first initiative of such kind in the country.
"Thank you very much for pioneering this. Maybe you could start an example for other regions as well," he said.
During the summit that was attended by representatives of local government units (LGUs), state universities and colleges (SUCs), national government agencies, public schools, and the private sector, Dy said he looks forward to their collaborations with the DICT.
"There is so much that we can learn from each other and we can share together. I am looking forward to collaborating with all of you, the LGUs, the SUCs, the public school system, etc.," he added.
Javellana added that "DICT Region 6 looks forward to our productive collaboration in the future."
In his solidarity message, Governor Eugenio Jose Lacson said the Digital Jobs PH advocacy workshop and the partnership summit during the event are the kinds of interventions needed by the provincial government to enable its people to cope and adapt well to the rapid and constantly evolving digitalization.
"This year's theme underscores the necessity of narrowing the digital gap, particularly the underprivileged and the minority groups," he added.
Lacson pointed out that the task of promoting digital literacy, the empowerment of the people through the use of ICT, and the establishment of ICT infrastructures in unserved and underserved areas are of paramount importance.
"We are taking not just a step, but a stride, in our recovery efforts, with all the knowledge and resources available, and that includes technology," he added. (PNA)