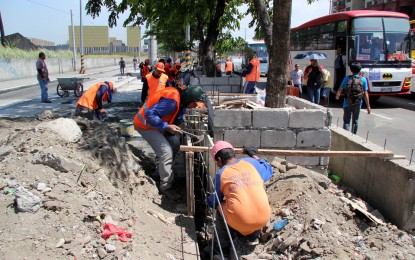 MANILA – The Department of Budget and Management (DBM) said Thursday a budget errata could help clarify the PHP544 billion lump sum appropriation lodged in the Department of Public Works and Highways' (DPWH) proposed budget for 2023.
DBM Secretary Amenah Pangandaman said she did not know where the lump sum appropriation came from, suggesting that it was likely in the form of payment for right-of-way acquisitions.
"Maybe the lump sum fund is in the form of right-of-way, kasi yung mga gastos nila on right-of-way, which I know po is wala pa yata tong specific details, because it will depend pag in-implement na nila yung mga projects (because their spending for right-of-way, which I know has no specific details, because it will depend on the implementation of their projects)," she said in an interview in ANC's Headstart.
She said the DBM may issue an errata to publicly disclose the projects and programs to be funded in the PHP544 billion appropriation.
"Mayroon tayong tinatawag na errata sa ating budget. Minsan kasi like yung (We have what we call an errata in our budget. Sometimes the) DPWH, given also the transition, they were not siguro (perhaps) able to give all the details of their project, maybe per district or per town or per province or per municipality. So we also give them time at least to prepare that and then submit to us and then we submit it to Congress," she added.
Despite questions over the DPWH's budget, she assured that projects and programs have been defined in detail.
"I think it was already explained by DPWH that they have the details for this, so hindi siya lump sum (so it's not lump sum)," she said.
Senate Minority Leader and opposition Senator Aquilino "Koko" Pimentel III earlier questioned the PHP544 billion lump sum in the DPWH's proposed budget, noting that the amount is equivalent to 75 percent of the total budget of the DPWH for next year.
The DPWH has a proposed PHP718.4 billion budget under the proposed PHP5.268 trillion national budget for 2023.
Pimentel warned that the amount could be a source of pork barrel funds, which the Supreme Court had declared unconstitutional.
99 'readily implementable' infra projects
Meanwhile, Pangandaman said the Marcos administration remains "very consistent" in its goal of slowly increasing infrastructure spending from 5.5 percent this year to 6.2 percent in 2028.
She also bared that at least 99 infrastructure projects are "readily implementable", but gave no further details.
In his first State of the Nation Address on July 25, President Ferdinand Marcos Jr. described infrastructure as the "backbone of an economy."
He vowed to expand the Duterte administration's infrastructure program through his administration's "Build Better More" infrastructure program.
"I will not suspend any of the ongoing projects as those have already been shown to be of benefit to the public that they serve," Marcos said.
Twelve out of 119 flagship infrastructure projects were completed during the Duterte administration, including the MRT-3 Rehabilitation Project, the New Clark City Phase 1, and the Clark International Airport Expansion project. (PNA)