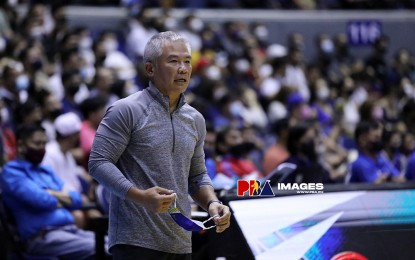 MANILA – The Philippine Basketball Association (PBA) on Thursday slapped TNT coach Chot Reyes with a PHP50,000 fine for his post-game actions in his team's tough loss to Magnolia in the PBA Commissioner's Cup.
Reyes quickly went to the officials' table at the final buzzer to confront them about a late foul against Calvin Oftana that led to Paul Lee's game-winning free throws.
That alone violated a league rule, which states that "no member of any team may approach the commissioner's row (now the technical group table) or talk to the supervisor of officials (unless otherwise requested) before, during, or after a game in full public view."
A violation of the rule usually merits a PHP20,000 fine.
However, Reyes, despite already being pacified, still hurled some choice words at the officials, which the league described as "incessantly shouting invectives/profanities at game officials", leading to the additional fine.
Reyes quickly left the Smart Araneta Coliseum in Quezon City still fuming about why the referees ruled a foul against Oftana.
A video replay shown by the PBA, also on Thursday night, confirmed that Oftana indeed fouled Lee while going for the teardrop and that the referees made the right call.
Tropang Giga team manager Jojo Lastimosa was not spared too as he was fined PHP20,000 for joining Reyes in confronting the table officials. (PNA)