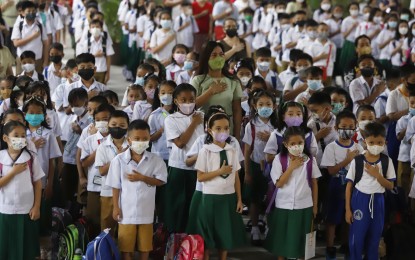 MANILA – Bringing all the children and youth back to school, securing catch-up learning, and support for teachers are included in the most vital call of the international community to address learning loss following the coronavirus disease 2019 (Covid-19) pandemic.
Knowing the urgency of this call, Vice President Sara Z. Duterte, the concurrent chief of the Department of Education (DepEd) pushed for a gradual transition to safe face-to-face learning starting Aug. 22.
"Ang pinakamahalaga na masasabi ko na nagawa natin as a country is naibalik natin 'yung ating in-person classes sa ating mga eskwelahan. Napakahalaga na nabalik natin ang option na mag-conduct ng five-day in-person classes dahil nakita rin nila na mas napapadali ang pagtuturo (The most important thing that we have done as a nation is we were able to bring back in-person classes in our schools. It is very important to have the option of five-day, in-person classes, because we see that it makes teaching easier)," she said.
Before she stepped into office, the Philippines was among the very few countries which continued distance learning mode, with schools closed for face-to-face setup for two years.
In a statement released in August last year, the United Nations International Children's Emergency Fund (UNICEF) said that the "right to learn" of over 27 million Filipino learners was affected.
"The associated consequences of school closures – learning loss, mental distress, missed vaccinations, and heightened risk of drop out, child labor, and child marriage – will be felt by many children, especially the youngest learners in critical development stages," UNICEF Philippines Representative Oyunsaikhan Dendevnorov said.
Crucially addressing the "learning gaps", the DepEd recognized it needed a whole-of-nation approach to realize bringing kids physically back to school.
"Everyone is in agreement that there was really a need to bring our learners back to school, kahit nga po nasa transition period pa tayo sa ngayon… The DepEd cannot really do (this) alone, our private sector organizations really helped, even our partner agencies," DepEd spokesperson Michael Poa told the Philippines News Agency (PNA).
The DepEd was able to breach its target enrollment of 28.6 million for the school year 2022-2023.

Ensuring safe learning
The DepEd also came up with DepEd Order (DO) No. 34 and DO No. 39, to "comprehensively provide health guidelines" to be implemented in schools nationwide, including the imposition of public health standards.
"We also issued DO No. 39, which is more comprehensive in terms of the health guidelines to be followed in schools, like wearing a face mask in enclosed spaces, such as classrooms, also the handwashing facilities, disinfection, and of course the reporting in LGU (local government unit)," Poa said.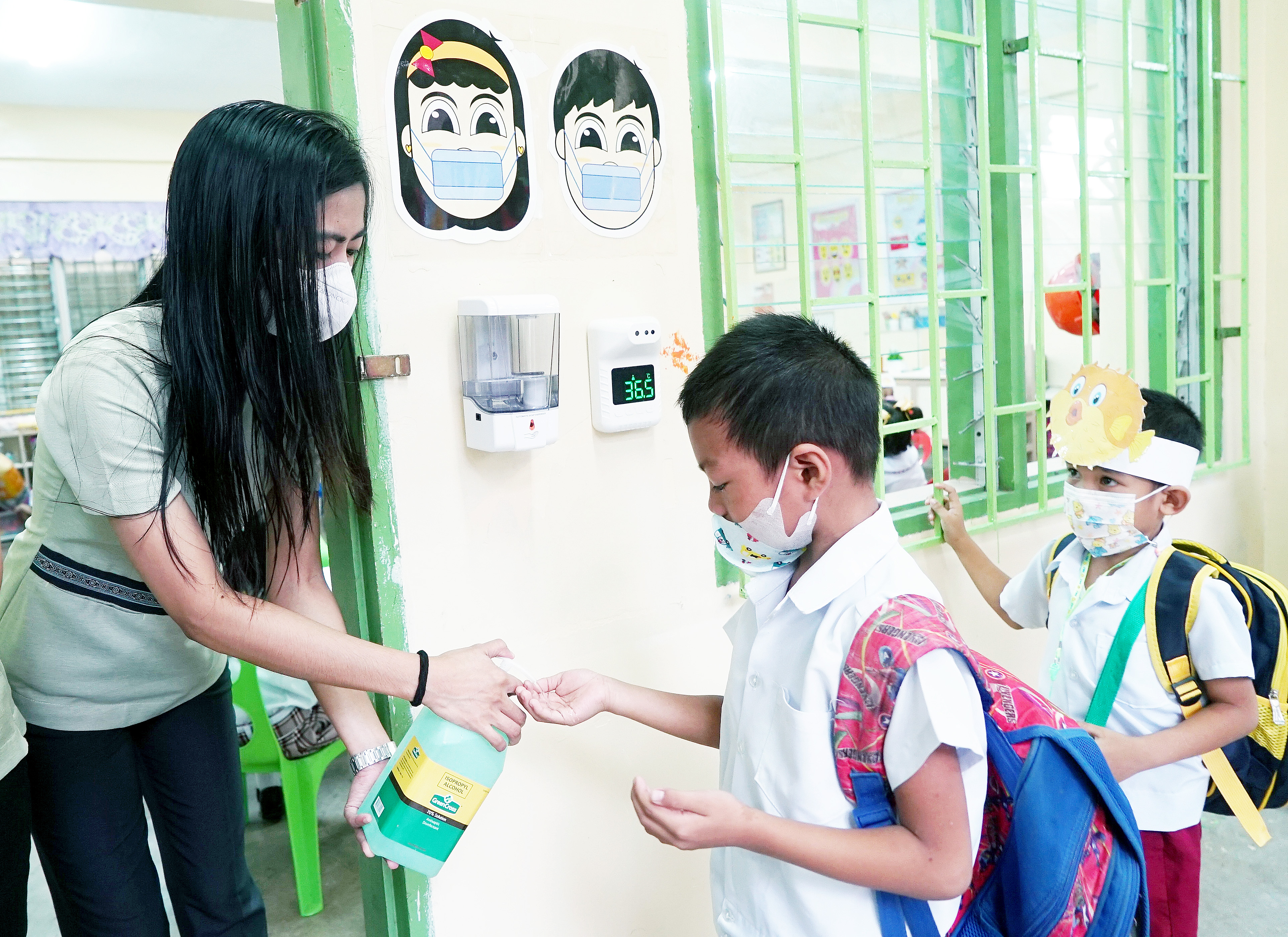 Poa explained that Covid-19 cases among learners, teachers, and non-teaching personnel in schools are reported to the Local Epidemiology Surveillance Unit of each LGU for contact tracing.
Health experts earlier said Covid-19 cases are expected to rise as schools reopen nationwide and mobility increases.
While the Department of Health (DOH) is yet to release data on the number of learners infected with Covid-19 since physical classes started, it confirmed transmission of the disease among the learners but this is cut quickly due to surveillance done in schools.
DOH officer-in-charge Maria Rosario Vergeire said safety officers in schools refer the cases to their local government health unit for management and monitoring of close contacts.
Most of the young learners are not fully vaccinated or have not received booster shots.
Hence, the DOH encourages parents to have them inoculated to prevent severe and critical Covid-19.
"As long as we can manage properly, lahat po ng protocols nasusunod, lagi naka-mask ang mga bata, maayos ang bentilasyon, naghuhugas palagian ng mga kamay at mayroong taong palagiang nagbabantay (all protocols are observed, children are wearing masks, there is proper ventilation, frequent handwashing, and there are monitors) to enforce that all these safety protocols will always be implemented," she added.
The DepEd earlier said that funds for disinfection materials in schools were downloaded to ensure adequate supply.
It has also intensified its vaccination and booster shots campaign in support of the nationwide vaccination drive of the DOH; counseling for vaccination is also made available for learners, teachers, and non-teaching personnel.
DepEd complaint hotline
Besides safety from the Covid-19 threat, the DepEd also strengthened its child protection measures and launched a hotline allowing complainants to seek help, treated with "utmost confidentiality."
The move happened as the department faced various concerns about physical, verbal, and even sexual abuse against learners.
"We are very concerned, talagang disturbing sa amin, 'yung news na ganyang abuse, sa ating mga learners… Alam nating sensitibo 'yung mga bagay na 'yan, baka po nahihiya silang lumapit sa school principal, school heads, o kahit mga school divisions office, kaya po naglunsad na tayo ng direct line sa office of the secretary kung saan makakapagsumbong (it's really disturbing for us, that kind of news of abuse to our learners… We know that it's very sensitive, maybe they are ashamed to go to the school principal, school heads, or even to the schools division office, that's why we launched a direct line to the Office of the Secretary where they can complain)," he said.
Since its launching on Sept. 8, the DepEd has received 14 complaints.
"Karamihan po diyan sa 14 complaints, ay mayroon nang investigation na isinasagawa, 'yung iba naman po, katulad ng case sa Bacoor, and other case na lumabas online, ay mayroon na pong mga formal charge dun sa mga naakusahang guro (Most of the 14 complaints are being investigated, while in other cases, like in Bacoor, and other which surfaced online, we have formal charges against the accused teachers)," Poa added.
Five out of seven accused teachers in Bacoor were charged with "Grave Misconduct, Conduct Prejudicial to the Best Interest of the Service, and Violation of DepED Order No. 40, series of 2012."
These charges come with a 90-day preventive suspension for the five teachers, as well as their right to choose either "proceedings by position paper only or by trial."
To further combat similar cases and other possible criminal activities with schools, the DepEd proposed the use of a confidential fund, which once approved, shall be used for "surveillance."
"That's why these confidential funds are aimed to help us and give us proper and appropriate intelligence and surveillance, so we can be target specific in our projects against these kinds of evil or corruption in our school levels," Poa said.
The DepEd insisted it has a legal basis, and that this aims to uphold the security of learners. However, Poa said the decision would be deferred to Congress.
The department admitted that there are still various challenges being faced in the education sector, including the perennial problem of classroom shortage, damage cost to schools during disasters, job mismatch and teachers' workload, among others.
But Poa assured that initial actions have been set for the first 100 days, including the study and consultation for building disaster-resilient schools, requesting higher quick-response funds for school rehabilitations and repairs, exploring the institutionalization of blended learning, Kinder-Grade 12 curriculum review, minimizing administrative tasks of teachers, and drafting a work-balancing tool for teachers.
As of Oct. 7, around 325 temporary learning spaces (TLS) in 125 schools, have already been built in areas earlier affected by a magnitude 7 quake, amounting to PHP58.5 million, and there are still 111 TLS units being processed for construction.
While for easing teachers' workload, the DepEd is set to hire 10,000 non-teaching personnel by January, once the budget has been approved.
"This is gonna be a work in progress, but we hope to raise the quality of education in the next six years. We know it cannot be done overnight, and we know that the Department of Education cannot do it alone… The aim of this administration is that by the end of the six-year period, we have raised the quality of education, we are able to produce learners that are of character, competent, and are employable," Poa said.

DOH achieves 25% booster vax target
The PinasLakas vaccination campaign, one of the commitments of the DOH for the first 100 days of the Marcos administration as part of the ongoing coronavirus response, has achieved 25 percent of the booster shot target.
The campaign aims to improve vaccination coverage for the first booster and to inoculate more senior citizens against the coronavirus.
"[For] PinasLakas, we were able to vaccinate 3.2 million individuals for the first booster shots. Ngayon, ang cumulative accomplishments natin sa lahat ng nagbu-booster shots sa buong bansa (Currently, our cumulative accomplishments for booster shots nationwide) is at 19.7 million," Vergeire said.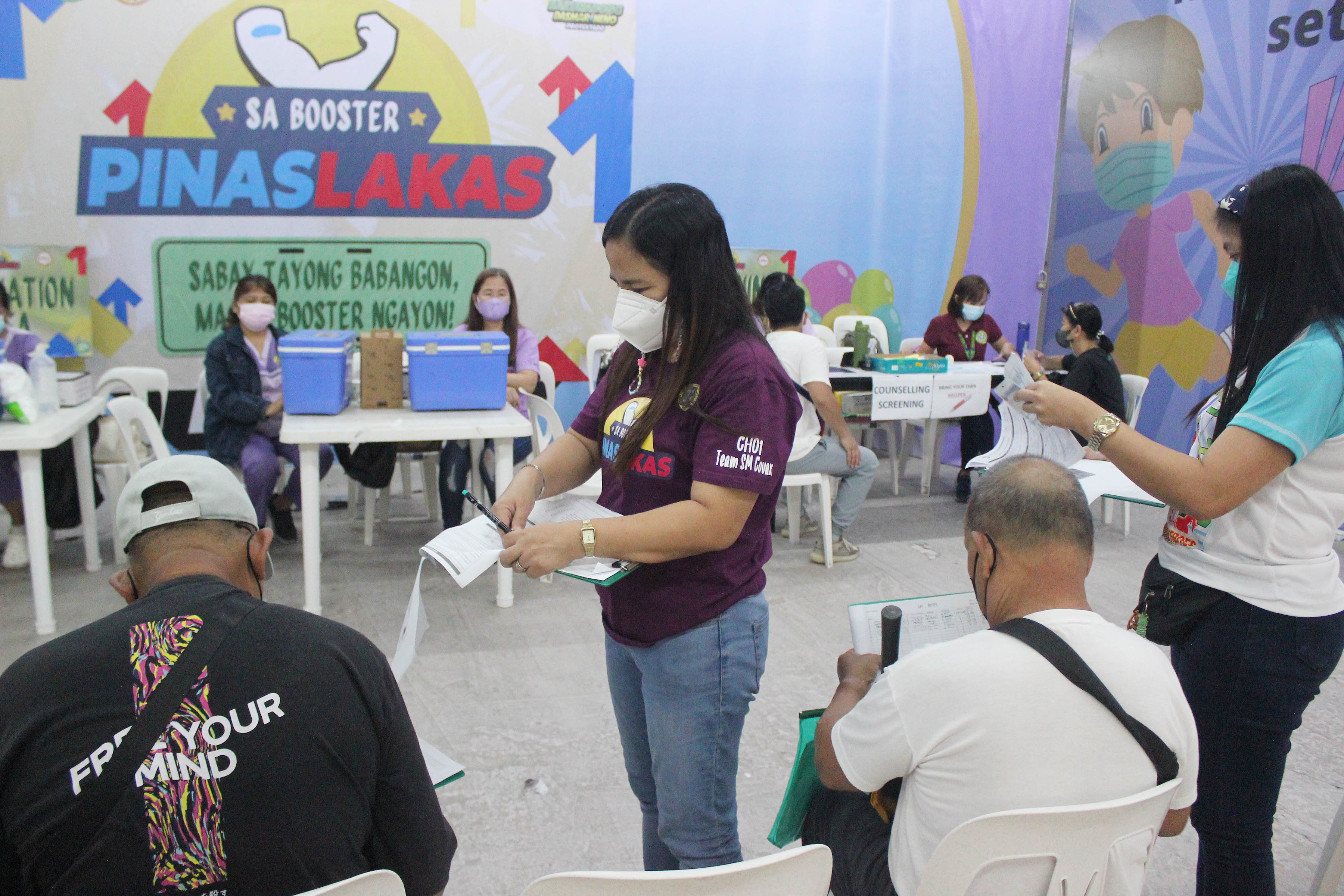 The figure equates to 25 percent of the eligible population, she added.
Earlier, the DOH adjusted its first booster vaccination coverage to 30 percent, originally 50 percent, of the eligible population.
The agency, through the campaign, has vaccinated more than 42,000 senior citizens.
As of Oct. 2, a total of 73,181,447 individuals have been fully vaccinated and 19,760,243 have received booster shots.
Meanwhile, the wearing of face masks in schools and other indoor spaces is still encouraged as the coronavirus prevails and cases increase.
Last month, President Ferdinand Marcos Jr. signed Executive Order No. 3, series of 2022, allowing voluntary wearing of face masks in outdoor settings.
However, senior citizens and immunocompromised individuals are highly encouraged to wear face masks outdoors.
Earlier, the Philippine Foundation for Vaccination (PFV) said wearing of face mask is protection against other communicable diseases and not just Covid-19.
PFV Executive Director Dr. Lulu Bravo noted that wearing of face mask protects the vulnerable -- individuals with comorbidity, immunocompromised, cancer patients, transplant patients, and the elderly -- from communicable diseases.
"Maski hindi po Covid, maaari kayong magkaroon ng symptoms ng ubo, sipon, tsaka pneumonia (Even if it is not Covid-19, you can have symptoms like cough, colds and pneumonia)," she said. (PNA)