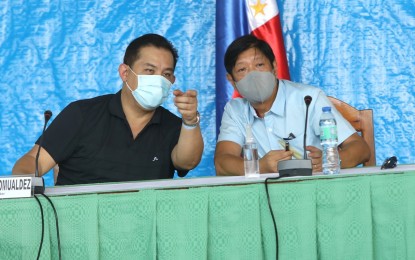 MANILA – Speaker Martin Romualdez on Friday said the high approval ratings received by the administration of President Ferdinand "Bongbong" Marcos Jr. in the latest Pulse Asia survey on its performance on national issues only proved that "the President is on the right track of governance."
"The good showing means that President Bongbong Marcos is on the right track of governance. The President started on the right foot by convincing the best, and the brightest and most capable among Filipinos to serve the people, to join his economic team and his Cabinet," Romualdez said.
He pointed out that Filipinos were happy with the Marcos administration's response to recent destructive typhoons, particularly Super Typhoon Karding (international name: Noru), as evidenced by its 78-percent approval rating in the Pulse Asia survey.
Also receiving a 78-percent approval rating were the administration's coronavirus disease 2019 (Covid-19) control measures.
Romualdez said the government's decision to continue reopening the economy -- while making sure that Covid-19 does not spread and ensuring the strengthening and readiness of the healthcare system -- has resulted in more mobility, more economic activities, more jobs and increased income for the people.
The Pulse Asia survey also showed that the Marcos administration received high marks in the areas of promoting peace (69), protecting the welfare of overseas Filipinos (68), fighting criminality (67), enforcing the law on all (62), creating more jobs (59), increasing workers' pay (59), fight graft and corruption (58), protecting the environment (57), and defending the country's territorial integrity (52).
However, the government only got 39 percent in reducing poverty among Filipinos; and 31 percent in controlling inflation.
Romualdez said the uptick in inflation could be traced largely to external factors -- including the strength of the US dollar vis-a-vis the Philippine peso, the increase of the price of crude oil in the world market, and disruptions in the supply chain caused by the Covid-19 pandemic and Russia's invasion of Ukraine.
The Pulse Asia survey fieldwork was conducted from Sept. 17 to 21, at a time when the Philippine peso continued to depreciate against the American dollar, with the local currency closing at PHP58 at the end of the survey period.
"Singly, each of these events already puts pressure on inflation. Their confluence makes matters worse for all consumers throughout the world. The government is taking measures to mitigate the impact of these external factors on domestic prices," he said.
"Let us be patient. With the cooperation of everyone, we will get there. President Bongbong has said he would not let even a single Filipino added to the ranks of the poor," Romualdez said. (PNA)