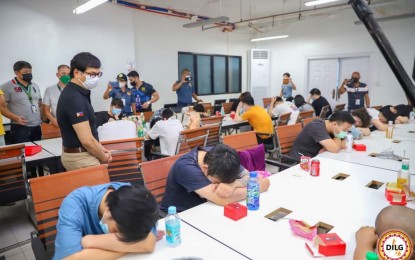 MANILA – The Philippine National Police (PNP) should refrain from assigning its personnel to secure Philippine Offshore Gaming Operators (POGO) so as not to taint the image of the organization.
Senator Ronald Dela Rosa said Friday he has received information of PNP personnel allegedly involved in POGO-related crimes.
"In able to clean your organization, sabihan mo (tell them to) stop deploying security to these POGO para matapos na 'yang isyu na 'yan (to end this issue)," the former top cop told PNP chief Gen. Rodolfo Azurin Jr. during a budget hearing conducted by the Finance committee.
Department of the Interior and Local Government Secretary Benjamin Abalos Jr. agreed with Dela Rosa and quickly issued a directive to file charges against any PNP personnel who are proven to be involved.
"Kunin mo mga pangalan nito (Get all their names) and of course, sanctions ang ibibigay natin (we will give sanctions), disciplinary ones. Let's stop this practice. Sulatan mo lahat ito (Send them all a message)," Abalos told Azurin.
The DILG chief assured the senators that they will take immediate action after committee chair Senator Sonny Angara suggested to also monitor POGO's private security details.
Azurin reported to the committee that the Police Security and Protection Group can still deploy 2,000 personnel as security detail out of its total of 2,541 personnel.
"We only provide security based sa (on) threat level na na-assess ng ating kapulisan (that were assessed by our policemen)," Azurin said.
The Senate has yet to decide on whether to totally stop POGO operations in the country or continue but with tighter regulations.
PNP proposed a budget of PHP201.928 million for next year but was only granted PHP191.496 million by the Department of Budget and Management.
Meanwhile, Senator JV Ejercito said the PNP must acquire better vehicles and equipment for far-flung areas to enhance the fight against insurgency and other criminal activities.
Ejercito recalled his visit to the Bondoc Peninsula in the southeastern portion of Quezon province where he saw a police vehicle struggling to climb a steep terrain.
"Dapat ang binibili natin ay 'yung maayos. 'Di baleng mas mahal ng konti. Ang gusto natin 'yung magagamit ng matagal (We should buy a decent one. It doesn't matter if it's more expensive. What we want is one that is more durable)" he said.
At the same time, he commended the successful efforts of the PNP in addressing the recent spate of criminal activities but warned not to meddle in politics.
"I think that peace and order is very essential in our President's thrust to rebuild our economy after the pandemic. Pinaka-importante na conducive 'yung business [environment] natin (It is very important that we have a conducive business environment)," he said.
"We have to make sure that our PNP ay dapat upright lahat (is upright). We do not want to support any agency that is abusive lalo na kung politika. 'Wag kayong sasali sa politika (especially in politics. Do not meddle in politics)," Ejercito said. (PNA)