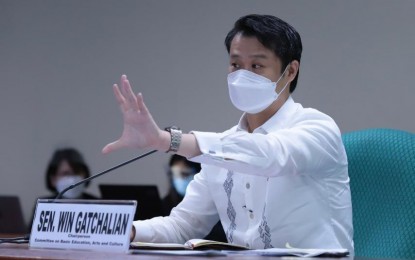 MANILA – Senator Sherwin Gatchalian on Monday renewed his call to institutionalize mental health services in public and private schools in the country and tap the Department of Education (DepEd) to establish and maintain mental health programs in all schools.
Gatchalian said it is about time to pass his proposal, Senate Bill No. 379, which aims to create the Mental Health and Well-Being Program to provide mental health services, emotional, developmental, and preventive programs, and other support services considering the impact of the coronavirus disease 2019 (Covid-19) pandemic to students.
The lawmaker renewed his appeal on the occasion of World Mental Health Day, which was created on Oct. 10, 1992 to advocate mental health awareness.
Gatchalian also emphasized the need to ensure recovery efforts include psychosocial support for both learners and teachers.
Under his proposal, the DepEd will be mandated to establish and maintain a Mental Health and Well-Being Center in every public school and will deliver mental and well-being services to address the mental, emotional, and developmental needs of learners, teachers, and non-teaching personnel.
It also seeks to hire and deploy mental health professionals in public elementary, secondary, and vocational institutions.
Gatchalian also proposes higher salaries and the creation of a sufficient number of plantilla items for the positions of Guidance Counselor, and the creation of a position to be known as Guidance Associate.
Under Gatchalian's proposal, the Salary Grade (SG) of Guidance Counselor I will be raised from SG 11 (PHP25,439) to SG 16 (PHP38,150), Guidance Counselor II from SG 12 (PHP27,608) to SG 17 (PHP41,508), and Guidance Counselor III from SG 13 (PHP29,798) to SG 18 (PHP45,203).
Graduates with a Bachelor's degree in Guidance and Counseling, Psychology, Social Work, Human Services, and other allied disciplines or any related courses are qualified to serve as Guidance Associates.
Gatchalian added that while the DepEd requires one guidance counselor for every 500 students, the number of guidance counselors is still not enough for the over 28 million learners nationwide.
The Philippines has only 4,069 guidance counselors as of June 2022 since the first batch took the licensure examinations in 2008. (PNA)