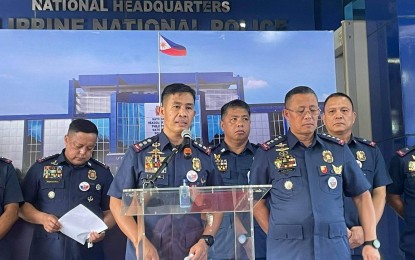 MANILA – A buddy system will be enforced for police officers deployed at the Philippine National Police (PNP) Custodial Center in Camp Crame as part of stricter measures following Sunday's hostage incident that threatened the life of detained former senator Leila de Lima.
"The police officers will have a buddy to make sure that the detainees won't dare attack them as a group. The incident happened during feeding time and which is the time when the inmates can go out to get some sunlight. It seems the inmates really planned on how to attack our personnel," PNP chief Gen. Rodolfo Azurin Jr. said in mixed English and Filipino in a press briefing in Camp Crame, Quezon City on Monday.
Azurin also said measures are in place to prevent inmates from sneaking items that can be used as improvised weapons that may hurt anybody.
Investigation showed that three inmates -- Arnel Cabintoy, Feliciano Sulayao and Abduljihad Susukan -- attacked Cpl. Roger Agustin on Sunday, who was distributing the food ration alone.
The wounded police officer is in critical condition after suffering multiple stab wounds.
The inmates used a fork which was turned into an improvised knife in stabbing Agustin and in taking de Lima as a hostage.
This was the weapon used in stabbing the police officer and in the hostage-taking involving de Lima.
"On the part of our guards there, they should be implementing everyday what is written in their checklist, especially those who are watching over inmates because it is very clear that there is an improvised weapon that these people use. This is why these hostage takers were able to stab our police officer. So this time we really need to be strict with the visitors, please check the things that the visitors bring)," he explained.
Azurin said they need to check if there were lapses that led to the hostage-taking.
He has also directed the Criminal Investigation and Detection Group to investigate and conduct a physical security check of the Custodial Center, as well as a review of standard operating procedures in running the facility.
"Likewise, the Forensic Group is also conducting the scene of the crime investigation in the hostage drama that happened yesterday (Sunday) and we are also trying to study, and reevaluate the existing policies and guidelines pertaining to the visitation of those detained there as well as those policies that we are implementing that should be implemented by police officers insofar as the security of the area is concerned, physical as well as the individual security of our detainees there," he added.
Custodial Center chief Lt. Col. Patrick Ramillano has also been relieved from his post pending an administrative investigation to determine his liability as commander.
"The situation is now contained and we will soon release the result of the investigation in the interest of accountability and transparency," Azurin said.
Azurin said de Lima has been transferred to the PNP General Hospital on Sunday evening to enable her to rest and recover from the incident.
"Inaayos yung detention cell ni Sen. de Lima we offered po yung PNPGH for the meantime para sa ganun, baka ma-monitor din yung blood pressure niya. So at least nandun siya ngayon sa PNPGH (The detention cell of Sen. De Lima is being fixed.She detained at the PNPGH for the meantime to monitor her blood pressure at least she is now in PNPGH)," said Azurin.
Azurin said it is up to the courts to decide whether de Lima will be transferred to another facility.
On Monday, normal operations at the PNP Custodial Center resumed.
Currently, there are seven persons under police custody (PUPC) who are confined in the facility, including de Lima.
Azurin has ordered an in-depth investigation regarding the unfortunate incident that resulted in the death of three Abu Sayyaf terrorists and the wounding of a police officer.
Meanwhile, the PNP honored Col. Mark Pespes, Headquarters Support Service (HSS) director, and other personnel who responded quickly to the attempted escape of the three inmates after Monday's flag ceremony.
Pespes was feted with the "Medalya ng Kadakilaan" or PNP Heroism Medal by Azurin.
Earlier, Interior Secretary Benjamin Abalos Jr. praised Pespes for his "decisive action" in bringing down the hostage taker.
Abalos said that when Sulayao asked for a bottle of water, Pespes took it as an opportunity to neutralize him by shooting the hostage taker in the head.
The other awardees are Capt. Michael Gobyay, Master Sgt. Denver Lou Ngo-oc and Cpl. Marvint Banigon -- all members of the PNP Special Action Force.
Also feted were three HSS personnel -- Pat. Lorenz Ian Matias, Chief Master Sgt. Jimmy Ferrer and Cpl. Rizza Pagaduan. (PNA)