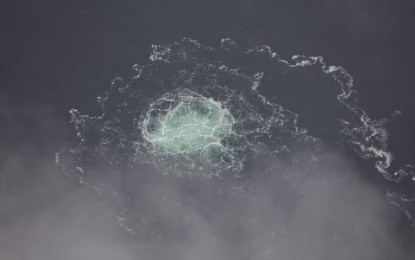 WASHINGTON – The US Navy P-8A Poseidon reconnaissance flight near the site of the sabotage on the Nord Stream 2 gas pipeline in the Baltic Sea was not related to the leaks, US Navy Captain Tamara Lawrence, US Naval Forces Europe-Africa spokesperson, told TASS on Sunday.
"The US Navy P-8A Poseidon aircraft shown in the tracking data conducted a routine Baltic Sea maritime reconnaissance flight, unrelated to the leaks from the Nord Stream pipelines. US Navy P-8A Poseidon maritime patrol aircraft often operate from allied and partner nation airbases in the US Sixth Fleet area of operations in order to increase proficiency and combined interoperability," she said.
"The US Navy had no involvement with the leaks from the Nord Stream pipelines," Lawrence added, when asked whether the flight was somehow related to the incident.
Reconnaissance flight
Reuters reported on Friday that a US Navy reconnaissance aircraft had flown near the site of the Nord Stream 2 incident in the Baltic Sea a few hours after the damage was detected.
According to the report, the P-8A Poseidon aircraft was spotted above the North Sea at 00:03 GMT, when Swedish seismologists registered an underwater blast southeast of Bornholm Island in the Baltic Sea.
The plane flew to the south of Bornholm an hour later, heading to northwestern Poland. The jet spent about an hour in that area before heading to the leakage site at around 02:44 GMT.
It came as close as 24 kilometers to the site of the incident, circled once and flew towards the Russian Baltic exclave of Kaliningrad, Reuters reported. The news agency said it had no information about the plane's whereabouts between 03:39 and 06:20 GMT, but at around 07:00 it was about 4 km north of the site of the incident.
On Sept. 27, Nord Stream AG reported that three lines of the Nord Stream 1 and 2 offshore gas pipelines had sustained unprecedented damage the day before.
Swedish seismologists later revealed that two explosions had been recorded along the route of the Nord Stream pipelines on Sept. 26.
The Russian Prosecutor General's Office said it had launched a criminal probe into a suspected act of international terrorism in connection with the damaged pipelines. (TASS)