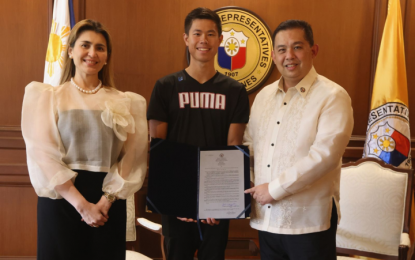 MANILA – Speaker Martin Romualdez on Tuesday presented to Ernest John "EJ" Uy Obiena a copy of the House resolution honoring the world No. 3 Filipino pole vaulter for bringing pride and glory to the Philippines.
The simple handover rite of House Resolution No. 10 unanimously adopted by the House of Representatives was held at the office of Speaker Romualdez during Obiena's courtesy call.
Romualdez assured Obiena that the entire House of Representatives is behind him as he prepares for upcoming big international competitions, including Paris 2024 Olympics.
"We'll be rooting for you, we'll be praying for you, and cheering for you all the way," Romualdez told Obiena.
For his part, Obiena thanked Romualdez for the warm welcome he received, saying the expression of support of the House inspires him to strive harder for the country's prestige.
"It's very flattering to receive such an honor. It's good to know that the whole House is at the back of every Filipino athlete who competes for the country," Obiena said.
Representatives Yedda Marie Romualdez (Party-List, Tingog), Faustino Michael Carlos Dy III (5th District Isabela), James "Jojo" Ang Jr. (Party-list, USWAG ILONGGO), and Jernie Jett Nisay (Party-list, PUSONG PINOY) joined the Speaker in receiving Obiena.
The House resolution, introduced by Speaker Romualdez, House Majority Leader Manuel Jose "Mannix" M. Dalipe, Ilocos Norte Rep. Ferdinand Alexander A. Marcos, House Minority Leader Marcelino C. Libanan, Yedda Romualdez and Tingog Rep. Jude A. Acidre, commended Obiena for winning the gold medals in two recent international competitions held in Germany.
"Resolved by the House of Representatives, to congratulate Ernest John 'EJ' Uy Obiena for winning the gold medals in the 26th Internationales Stabhochsprung-Meeting held in Jockgrim, Germany and in the True Athletes Classics in Leverkusen, Germany. Resolved, further, that a copy of this Resolution be given to Ernest John "EJ" Uy Obiena," the resolution read.
The lawmakers lauded Obiena for his remarkable contributions in bringing honor to the country, saying his exemplary performance deserves utmost commendation and distinction.
"With his string of accomplishments, EJ's feat is one of the greatest in Philippine athletics' history and underscored the kind of dizzying heights the country has achieved in pole vaulting," the resolution said. "He is set to compete again in various events, and with his hard work and determination to be the best male pole vaulter, success is within his reach."
Obiena is considered a strong contender for the pole vault gold in the 2024 Olympics after he set a new pole vault world record at the Diamond League last Sept. 2, 2022, in Brussels, Belgium.
Aside from bagging the two gold medals in the Germany meets, the pole vaulter also met the qualifying standard for the 2023 World Athletics Championships in Budapest, Hungary.
From his historic bronze finish in the 2022 World Athletic Championships in Oregon, USA, Obiena rose from No. 6 to No. 3 in the men's pole vault ranking while retaining his top ranking in Asia. (PNA)