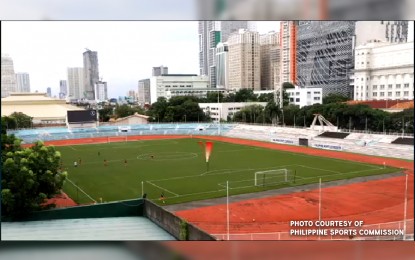 MANILA – The Kurash Sports Federation of the Philippines will hold the Women's Martial Arts Festival - Kurash Juniors and Seniors tournament at the 3rd floor of the SMAP building (judo training hall) inside the Rizal Memorial Sports Complex (RMSC) in Manila on Nov. 13.
The combined event for athletes 16 to 35 years old is part of the selection process in line with the 6th Asian Indoor and Martial Arts Games (AIMAG) scheduled from Nov. 17 to 26, 2023 in Bangkok and Chonburi province, Thailand.
The registration form link is https://forms.gle/5KeyEmtMnzkpRZjx8. Registration, medical, waiver, entry by name forms will be sent through your email or call 0917150326/09063582556/09179122684. Deadline of submission is on Oct. 28, 2022.
Only athletes, coaches, technical officials and organizing committee are allowed inside the RMSC as a mandatory rule of the Philippine Sports Commission due to Covid-19 pandemic. Spectators will not be allowed entry.
A total of 29 sports are in the medal programme of the 2023 AIMAG. However, the Philippines will only compete in 21 events -- Basketball 3x3, Aquatics (water polo only), Billiard Sports, Bowling, Chess, Dance Sport, Esports, Indoor Athletics, Indoor Rowing, Jujitsu, Karate, Kickboxing, Kurash, Muay, Pencak Silat, Sambo, Sepak Takraw, Shooting, Skateboarding, Taekwondo, and Wrestling.
The last edition of the AIMAG was held in Ashgabat, Turkmenistan in 2017. The Philippines captured two gold medals coming from jujitsu fighters Annie Ramirez and Meggie Ochoa, 14 silver medals, and 14 bronze medals.
Philippine Olympic Committee President Abraham "Bambol" Tolentino said all the athletes going to the 6th AIMAG have the potential to win medals.
The AIMAG, organized by the Olympic Council of Asia, is the second biggest multi-sport event after the Asian Games. It is a merger of the Asian Indoor Games and the Asian Martial Arts Games. (PNA)