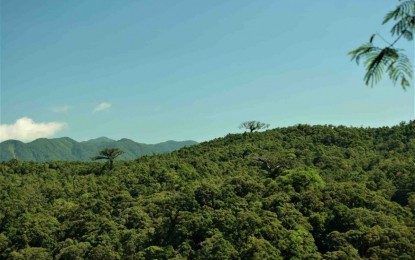 MANILA – Senate Majority Leader Joel Villanueva on Tuesday vowed to help the Department of Environment and Natural Resources (DENR) seek additional budget for the preservation of the Sierra Madre mountain range.
Like in previous instances, the 540-kilometer mountain range that spans Cagayan and Quezon provinces was believed to have saved several parts of Luzon from the wrath of Super Typhoon Karding on Sept. 25.
Villanueva was shocked to hear that the budget of DENR for Sierra Madre preservation amounts to just PHP9.9 million.
"Let me put into record na nanlata ako (that I was disheartened). PHP9.9 million?" he said after hearing DENR Undersecretary Analiza Rebuelta-Teh read the budget allocated for the Northern Sierra Madre Natural Park during the budget hearing.
"The budget allocation is intended for the marcation, updating of management plan, monitoring of flora and fauna, and hiring of protected area superintendent and park rangers.
Villanueva noted the significance of preserving the Sierra Madre mountain range for slowing down flooding and reducing typhoon-related calamities.
The lawmaker said the mountain range shields Metro Manila and the provinces of Cagayan, Bulacan, Isabela, Nueva, Vizcaya, Nueva Ecija, Quirino, Aurora, Quezon, Rizal, and Laguna.
Villanueva, a native of Bulacan, noted that Sierra Madre also stabilizes water flow, prevent typhoon-related calamities, and provides a path for slowing down and often taking the impact of the typhoon.
"The rugged mountain slopes can mitigate strong winds. The forest also absorbed the heavy rains," he said.
Villanueva assured DENR officials the Senate is "here to help" and will find out how much the agency needs.
According to the data of the National Mapping and Resource Information Authority, the Sierra Madre covers 1,417,472.81 hectares of land area.
Its closed forest land covers 553,637 hectares and its open forest land 537,065 hectares. (PNA)