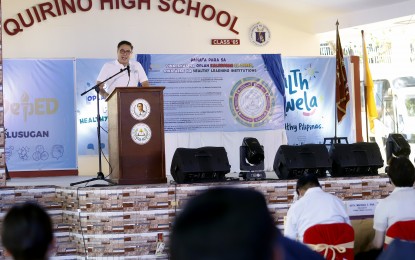 MANILA – The Department of Education (DepEd) and the Department of Health (DOH) on Tuesday launched "Oplan Kalusugan" and "Healthy Learning Institutions" (HLIs) at the Quirino High School in Quezon City to ensure the safety and health of learners.
In a speech, DepEd Undersecretary and Chief-of-staff, Epimaco Densing III, underscored the importance of health and quality education in the economic recovery of the country, following the coronavirus-disease 2019 (Covid-19) pandemic.
"We are now exiting, and I do hope that as we exit the pandemic of Covid-19, we are able to prepare and support to ensure that our children and our learners in all our educational institutions, especially in the institutions that we are supervising whether in the public or private schools," he said.
In particular, OK sa DepEd aims to "have the sufficient implementation of school-based nutrition program and services; provide all public school teachers with health and nutritional services; ensure the wellness of Deped personnel through basic medical care; generate information of health and nutrition records of the learners for planning and programming, and maximize opportunities for better and wider coverage for health and nutrition services delivery."
OK sa DepEd also covers programs on drug education, comprehensive tobacco, adolescent reproductive health, water, sanitation and hygiene, medical, dental, and nursing services, and mental health.
Densing noted that the DepEd has to address challenges in these areas, considering that education and health are two of the three "foundations of economic growth."
"We ensure that they are healthy and that they are not permitted to be sick or infected by any disease. It is our responsibility as second parents in these institutions, that we ensure the health of our learners," he said.
Under malnutrition, Education spokesperson Michael Poa said they have so far recorded 1.7 million learners this year who fall under the wasted and severely wasted category, and are currently part of the continuing school-based nutrition program, benefiting around 3.5 million learners nationwide. Included in this figure are the 1.8 million Kindergarten beneficiaries.
Moreover, Health Undersecretary Beverly Lorraine Ho said part of the OK sa DepEd and HLI programs are ensuring "support to schools by giving them grants."
Initially, the DOH was able to get support from 273 schools from nine provinces, and is looking to increase the number of participating schools.
"So for the target 1,500 schools next year, ongoing na po 'yung call, nung aming mga regional offices sa mga (the call is already ongoing from our regional offices to) LGUs and schools. So we are in the process of receiving the letters of intent, so by the end of November, we should finalize the list of provinces and corresponding schools that they have," Ho said in a press briefing.
Health literacy
Alongside this, Ho also underscored the need to promote seven health habits among learners and other age groups to achieve "health literacy."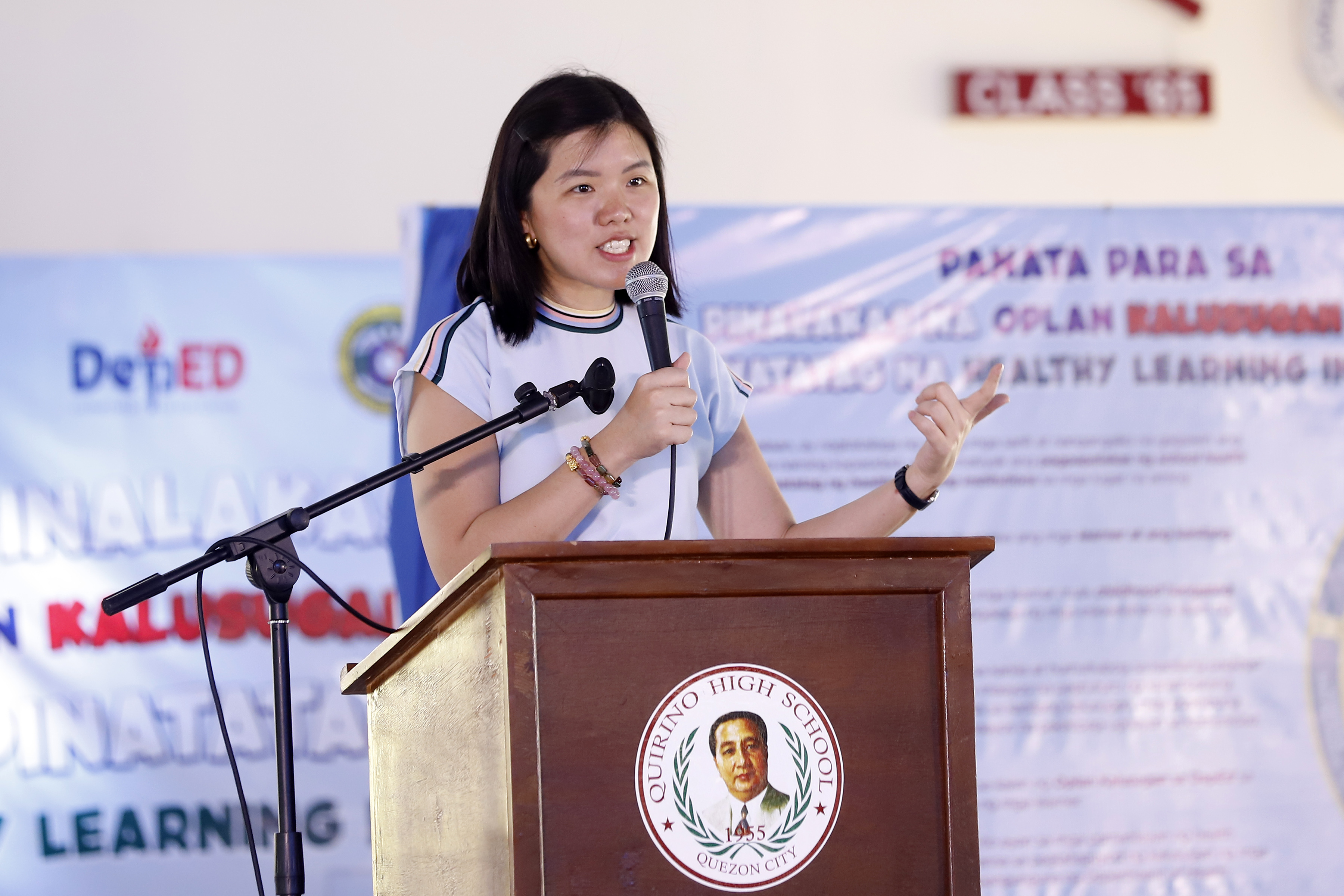 "We have to be in places where people are most of their waking hours, that's not in the clinics, that's in schools, that's in workplaces, in the communities. So we have this program with DepEd on healthy learning institutions, which links with their OK sa DepEd, so these are included in the curriculum. Our addition now is to help give more funds and support for the teachers and teaching staff so that they can do the interventions," she said.
Included in the seven healthy habits is the promotion of a good diet, taking care of the environment, vaccination, substance abuse (drugs, alcohol, and tobacco), caring for one's mental health and others', reproductive health, and violence and injury prevention.
The National Kick-off of OK sa DepEd and HLI launching is pursuant to Joint Order 11223 or the Universal Health Care Act.
No Covid-19 uptick
Asked if school openings brought a general uptick in Covid-19 cases among children and adolescent age groups, Ho said there's no significant spike monitored.
"Categorically, We didn't really see an uptick," she said.
However, both the DepEd and DOH assured they will intensify collaborations to reduce vaccine hesitancy among parents for their children, in an aim to avoid increased hospitalizations due to a surge of Covid-19 cases.
"We recognize that a huge part of it is being able to educate and assure parents as well as making sure that the influencers of the parents, so that could be health workers in the community, it is important that they know them, as well as school staff is able to adequately reassure them," Ho added.
As of now, the DepEd said 92 percent of teachers have been fully vaccinated, while 96 percent have been inoculated with at least one dose.
The number of vaccinated learners, meanwhile, is yet to be collated and finalized with DOH data, once the number of late enrollees is finalized. (PNA)