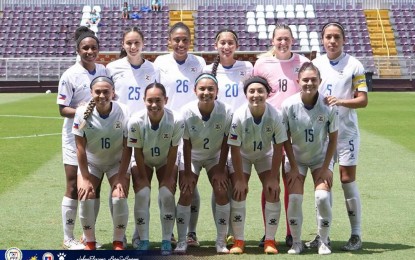 MANILA – The Philippine women's football team suffered a 1-2 defeat against Costa Rica at the tail end of their two-leg friendly series at the Estadio Ricardo Saprissa in San Jose, Costa Rica early Wednesday (Manila time).
The Costa Ricans came alive moments after Tahnai Annis misfired a spot kick that could have been the Filipinas' dagger as the latter failed to complete yet another major result against a team far above them in the FIFA rankings after their 1-1 draw in their first meeting on Saturday (Manila time).
Carleigh Frilles put the Filipinas ahead after beating Daniela Solera in the one-on-one just before the halftime whistle even as Bella Flanigan found her open for the through ball.
Annis got a chance to give the Filipinas a more comfortable lead to start the second half after a handball violation was called inside the box, but despite forcing Solera to go the wrong way, Annis had her spot kick going way off left to the shock of everyone at the stadium and even those watching the live streams.
It turned out to be the confidence booster Costa Rica needed as they turned on the jets midway into the final 45 minutes.
Costa Rica's aggression was rewarded in the 61st minute when Raquel Rodriguez sent a powerful penalty shot to the left side of the goal that Olivia McDaniel could not tap away to tie the match.
The penalty was called after Jessica Cowart, who was outstanding in the first half with her attempts that gave Solera an early challenge, was caught with a handball infraction of her inside the penalty area.
Gloriana Villalobos gave the Costa Ricans the lead in the 68th minute after sending a wide-open long shot from the left wing that went past McDaniel.
Cowart had a chance to force the draw late into the match but Solera saved what would be the Filipinas' last gasp. (PNA)