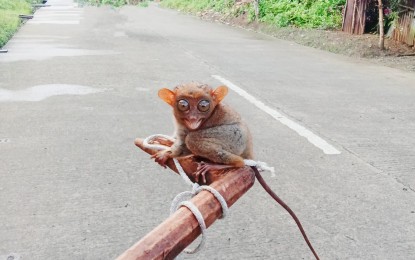 TACLOBAN CITY – The Department of Environment and Natural Resources (DENR) has called for community participation to protect the Philippine Tarsier after the recent rescue of the animal in captivity in a remote village in Basey town, Samar province.
Joseph Cabigayan, Environmental Management Specialist of the Community Environment and Natural Resources Office (CENRO) based in Santa Rita town in Samar, said villagers should be aware that it is prohibited to catch the world's smallest primate listed under "near threatened species" by the International Union for the Conservation of Nature.
"This is our focus now to raise awareness of people especially in communities living near the Samar Island Natural Park (SINP), the natural habitat of some of our endangered species," Cabigayan said in a phone interview on Wednesday.
The CENRO Sta. Rita team rescued the tarsier locally known as "mago" on Oct. 3, two days after it was caught by two residents while they were cutting grass on a farm in Basey.
"A group of farm workers from Roxas village in Basey saw the captured tarsier in nearby Mongabong village, posted the photo on social media, and it went viral," Cabigayan told the Philippine News Agency.
The rescued tarsier was found healthy and was released in a forested area in Guirang village in Basey within the SINP on Oct. 4.
The area is one of the DENR's biodiversity monitoring site.
Based on DENR Administrative Order 2019-09 or the updated national list of threatened Philippine fauna and their categories, the Philippine Tarsier is categorized as "Other Threatened Species".

"This means that the species is under threat from adverse factors such as over-collection and is likely to be moved to the vulnerable category in the near future," Cabigayan added.
Vulnerable species are considered to be facing a high risk of extinction in the wild.
In Basey and nearby towns, tarsiers are frequently sighted by villagers in upland farms.
Under R.A. 9147 or the "Wildlife Resources Conservation and Protection Act," it is unlawful for any person to willfully and knowingly exploit wildlife resources, according to Cabigayan.
This includes killing and destroying wildlife species, injuring and maltreating, collecting, hunting, or possessing wildlife, and trading them, among other prohibited acts.
Depending on the category of wildlife, those who will be found guilty will face imprisonment of five days to as long as 12 years and a fine of PHP200 to as high as PHP1 million. (PNA)