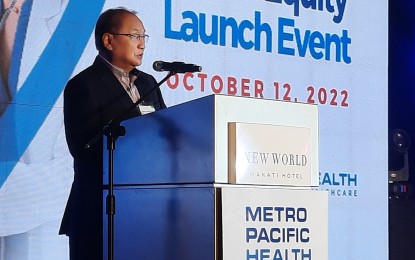 MANILA – The Metro Pacific Health (MPH), formerly Metro Pacific Hospital Holdings, Inc. (MPHHI), is aiming to bring accessible and affordable healthcare services for Filipinos by expanding its network of healthcare care facilities in the country.
During the brand equity launch in Makati City Thursday, MPH president Augusto Palisoc Jr. told reporters that the group increased its previous target of 30 hospital networks by 2030 to 40 hospitals in the next seven to eight years.
MPH is currently a network of 19 hospitals, 20 outpatient care centers, and six cancer treatment centers with a total 3,800 bed capacity, a pool of 10,000 doctors, and 15,000 employees servicing nearly 3.8 million patients annually.
MPHHI, the country's first and largest network of hospitals, has rebranded to MPH as "the heart of Filipino healthcare".
Palisoc said MPH is currently in talks with at least 20 healthcare facilities, which the company aims to invest in.
He said the healthcare facility network remains keen on expanding through acquisitions.
Palisoc said MPH targets facilities in major islands in the Visayas, particularly Cebu and Iloilo.
Its networks of hospitals are in Metro Manila, Bulacan, Tarlac, Rizal, Laguna, Bohol, Negros Occidental, Zamboanga del Sur, and General Santos.
Palisoc said that by building its network of healthcare facilities, the company will be able to provide affordable healthcare services to its patients.
"If you run your hospitals more efficiently, then in effect you'll be able to deliver your service at a lower cost. And then I mentioned, since we buy as a group, then we probably are the lowest, we buy medicines, supplies at the lowest cost now in the country. It all now helps reduce the healthcare in our hospitals," Palisoc said on the sidelines of the event.
MPH chairman Manuel V. Pangilinan also echoed that the group targets to bring quality health services more accessible and affordable.
"Our intention is to expand efficiencies to make our services affordable. That's an important concern for this group —to make the health services, not only quality health services, but to make services affordable. We will not only provide quality hospital care, but make that accessible to (a) greater number of people," Pangilinan said.
Meanwhile, MPH chief executive officer Dr. Harish Pillai said the company also aims to provide complex healthcare services in the next three to four years so Filipinos do not have to go overseas for these kinds of services. (PNA)