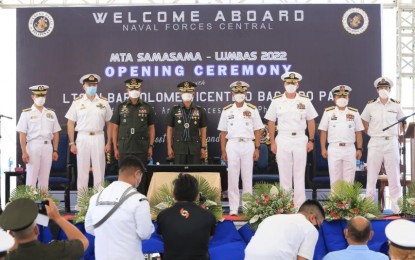 MANILA – The Armed Forces of the Philippines (AFP) has formally opened the first-ever simultaneous conduct of Maritime Training Activity (MTA) "SAMA-SAMA" and "LUMBAS" on Tuesday.
The MTA "SAMA-SAMA" is the joint exercise between the Philippines and the United States, while "LUMBAS" is between the Philippines and Australia.
"This year's joint exercise shall undoubtedly reinforce the long-standing alliance and friendship among our respective nations while opening broad avenues to complement our joint regional security efforts and advance our maritime capabilities," said AFP chief-of-staff Lt. Gen. Bartolome Vicente Bacarro in his speech during the opening ceremony at Naval Forces Central (NAVFORCEN) in Lapu-Lapu City, Cebu which was forwarded to reporters Wednesday.
The naval exercises are usually conducted separately but these were held simultaneously this year.
Representatives from the Japan Maritime Self-Defense Force, British Navy; Royal Brunei Navy, French Navy, Royal Canadian Navy, and the Royal Malaysian Navy were present as observers and will take part in disaster and humanitarian assistance activities.
A total of 742 personnel will join the MTA "SAMA-SAMA" and "LUMBAS" 2022 and this includes the AFP's Naval Reserve Force.
This year's naval exercises includes capability-enhancement events to address non-traditional concerns such as territorial defense, natural and man-made disasters, terrorism, and transnational crimes.
It also aimed at developing warfighting interoperability of participating navies on maritime law enforcement operations, on-shore and at-sea sustainment, air operations, anti-submarine warfare, and humanitarian assistance.
Present in Tuesday's rites were Philippine Navy acting flag-officer-in-command, Rear Admi. Caesar Bernard Valencia; NAVFORCEN commander, Commodore Florante Gaguia; US Navy 7th Fleet commander, Vice Adm. Karl Thomas; Royal Australian chief-of-staff navy headquarters, Commodore Ray Leggatt; Japanese Vice Adm. Tamotsu Matsumoto, Commander of Fleet Air Force; and British Commodore Mike Proudman of the HMAS Spey.
The exercises will be conducted in Clark Airbase, Pampanga, and in different locations in the Visayas Region. (PNA)