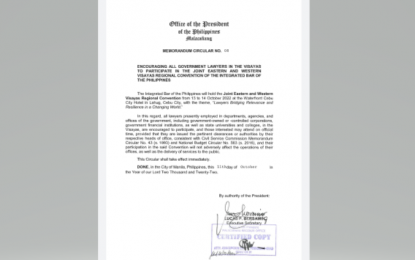 MANILA – Malacañang has released a memorandum circular (MC) encouraging all government lawyers in the Visayas to participate in the Joint Eastern and Western Visayas Regional Convention of the Integrated Bar of the Philippines (IBP) this week.
Executive Secretary Lucas Bersamin signed MC No. 8 by the authority of President Ferdinand "Bongbong" Marcos Jr. on Tuesday.
Under the MC, Bersamin noted that the IBP will hold the Joint Eastern and Western Visayas Regional Convention at the Waterfront Cebu City Hotel in Lahug, Cebu from Oct. 13 to 14.
The convention will go by the theme "Lawyers Bridging Relevance and Resilience in a Changing World."
"In this regard, all lawyers presently employed in departments, agencies, and offices of the government, including government-owned or -controlled corporations, government financial institutions, as well as state universities and colleges, in the Visayas, are encouraged to participate, and those interested may attend on official time…," the MC read.
However, attendees must acquire "pertinent clearances or authorities by their respective heads of office, consistent with Civil Service Commission Memorandum Circular No. 43 and National Budget Circular No. 563, and their participation in the said Convention will not adversely affect the operations of their offices, as well as the delivery of services to the public."
Supreme Court Chief Justice Alexander Gesmundo will be participating in the event as keynote speaker, according to a program of the event.
Gesmundo will also be leading a discussion titled: "The Supreme Court and the IBP: Refocusing its Advocacy and Restoring Faith in the Justice System" which will tackle updates in substantive and procedural laws and jurisprudence.
Day 1 topics during the convention include Traditional and Social Media and the Law: Freedom of Speech and the Value of Information and Fact Checking; Mandatory ROTC and its Implication on the Current Educational System; Challenges in the Political Landscape: Reforms in the Electoral Process.
Meanwhile, Inclusive Growth through Inclusive Business: The Sustainable Way Forward for the IP Communities; Data Privacy and Protection of Personal and Financial Data from Cyberthreats; Anti-Money Laundering and Anti-Terrorism Cases in Commercial Courts; Oral Lex: How to Win Arguments in the Court of Last Resort; No to Legalese: Legal Writing Made Plain; Preparing for the Practice of Law in a World Without Borders; and the Philippines in the International Law Stage are the topics to be discussed in Day 2.
The IBP is the "official" organization of all Philippine lawyers whose names appear in the Roll of Attorneys of the Supreme Court. Official means it is established by the state.
Republic Act No. 6397 confirmed the power of the Supreme Court to adopt rules of court to effect the integration of the Philippine Bar.
Presidential Decree. No. 181 was promulgated on May 4, 1973, constituting the IBP into a body corporate and providing government assistance thereto for the accomplishment of its purposes. (PNA)