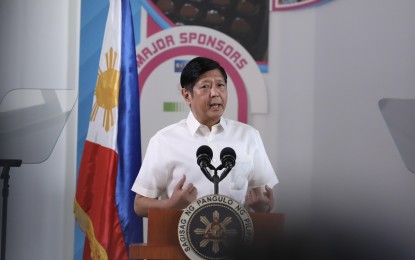 MANILA – President Ferdinand "Bongbong" Marcos Jr. has signed a law postponing the December 2022 Barangay and Sangguniang Kabataan (SK) elections.
Republic Act (RA) No. 11935, signed by Marcos on Oct. 10, postpones the Barangay and SK elections on Dec. 5 this year to the last Monday of October 2023.
"There shall be synchronized Barangay and Sangguniang Kabataan elections, which shall be held on the last Monday of October 2023 and every three years thereafter," the law reads.
Under RA 11935, the term of office of the Barangay and SK officials will commence at noon of Nov. 30 following their election.
"Until their successors shall have been duly elected and qualified, all incumbent Barangay and Sangguniang Kabataan officials shall remain in office, unless sooner removed or suspended," it added.
Barangay and SK officials who are ex officio members of the Sangguniang Bayan, Sangguniang Panlungsod, or Sangguniang Panlalawigan will continue to serve as such members in the Sanggunian concerned until the next Barangay and SK elections unless removed.
The amount necessary for the implementation of RA 11935 will be taken from the appropriations of the Commission on Elections under the General Appropriations Act and/or supplementary appropriations.
"If any portion or provision of this Act is declared unconstitutional, the remainder of this Act or any provisions not affected thereby shall remain in force and effect," RA 11935 reads.
All other laws, acts, presidential decrees, executive orders, issuances, presidential proclamations, rules and regulations which are contrary to and inconsistent with any provision of RA 11953 are repealed, amended, or modified accordingly.
RA 11935 is a consolidation of House Bill No. 4673 and Senate Bill No. 1306, which was passed by the House of Representatives and the Senate of the Philippines on Sept. 28, 2022.
Last month, Comelec Chairperson George Garcia said they are considering moving the dates of filing the certificates of candidacy (COC) for the 2022 Barangay SK elections pending the decision on proposals to postpone it.
The COC filing for the 2022 Barangay and SK elections was initially set from Oct. 6 to 13.
Comelec will comply
In a statement on Wednesday, Garcia said Comelec will comply with the law postponing the BSKE.
"As I have said before, the Comelec shall comply with the law. I have conveyed the Comelec position with regard to postponement of the BSKE to the legislature and the President and I trust that such position was duly noted and considered," he said.
"With this law, the legislative and the executive departments have seen fit to postpone the Barangay and SK Elections (BSKE) to October of 2023," he added.
He said the poll body will be coming out with an updated calendar of activities regarding the postponed electoral exercises "the soonest possible time."
"We shall also revisit our existing and planned procurement contracts related to the BSKE and act accordingly with the best interest of all parties in mind," he said.
Garcia said the postponement will also give the Comelec "an opportunity to further institute education and information programs for the benefit of our electorate and prospective BSKE candidates."
He added that the one-year postponement will also allow them to resume voter registration "to ensure the larger participation of the citizenry."
Garcia said it will give the hopefuls as well as the voting public "to take this time to prepare and reflect on their rights and duties which they will exercise through their ballots and eventual offices." (with reports from Ferdinand Patinio/PNA)